At long last, Guild Wars 2: The Icebrood Saga is reaching its epic end. Beginning with its prologue chapter Bound by Blood way back in September 2019, and threaded through nine other stages over the past 18 months, the MMORPG's saga's final raging battle has now dropped – and its world encounter showdown "really ups the stakes and the chaos" this time.
Ushered in with a new trailer – which you can check out below – the Guild Wars 2 Icebrood Saga: Champions finale Judgment sees "the Elder Dragons of Ice and Fire face their last battlefield in The Icebrood Saga's final chapter". Players have to "join the fight to save Tyria from an elemental cataclysm – and tip the scales to ensure Jormag and Primordus can't hide behind their mortal champions forever."
As part of that epic showdown between the two mighty, elemental dragons, Guild Wars 2 has added a bunch of dragon-linked rewards and an enormous world boss encounter that'll see up to 80 players dive into the action. "This world boss encounter, Dragonstorm, really ups the stakes and the chaos by placing Jormag and Primordus on opposite sides of the battle, then dropping the players in-between them to act as a balancing force," senior game designer Bryan Yarrow tells us.
"One of the key ways this manifests is when it comes time to take on the elder dragons' champions directly – to maintain the balance, Ryland and Braham must be defeated at the same time, which is no easy task considering the power of the foes the players are up against! Players will need to be sure to communicate with each other in order to keep the battle from descending into chaos."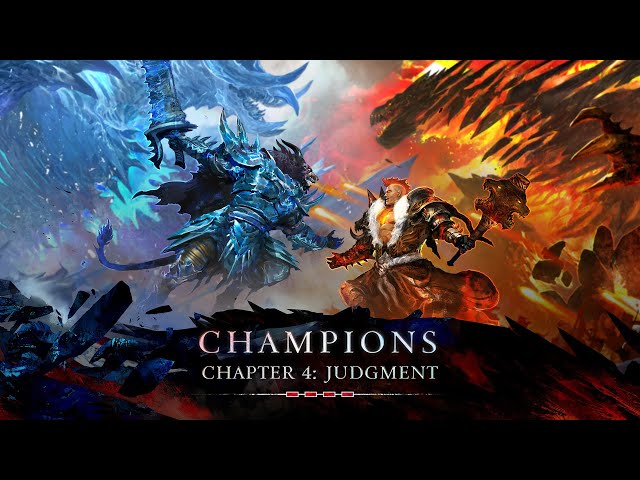 There's a public offering of this encounter that becomes available on rotation every two hours. Or, you can tackle this with up to 50 pals and guildmates via a private squad version instead if you prefer. As for whether this encounter will throw any big surprises players' way in terms of how it'll play out, Episode 5 team lead Joe Kimmes tells us, "That'll have to stay a surprise!" though the dev does add, "I will say that seeing the warning indicator for one of Jormag's attacks has made my eyes widen a few times even knowing that it's out there." Gulp.
Kimmes has also spoken to us about how the Icebrood Saga's finale has changed since its original conception, based on player feedback over the past 18 months. "In a lot of ways this finale has been planned since the
beginning of Icebrood Saga; since it sets up what comes next, it was important to not have the story's conclusion change much in development. But on the gameplay side we've constantly adjusted.
"A good example is Dragonstorm's multiple modes – in earlier drafts it had a single public version. Taking in feedback from other large meta events and similar missions, we ended up broadening it to have the solo-able story mode and a new format for joining as a preorganised squad."
Additionally, the finale brings the ability to hit the Dragon Slayer mastery's maximum level, which means access to rare item drops. There'll also be dragon-themed rewards to scoop up, which include a new dragonscale cape, dragon eye infusion, special icy greatsword skin, and new dragon-themed minis.
The chapter dropped on April 27, so you can go plunge into the epic finale battle between Jormag and Primordus right now if you own Path of Fire.