It looks like Half-Life fans will soon get a chance to reconnect with the games, in a manner of speaking. No, sadly there's no news of a Half-Life 3 right now, but for fans of the series something pretty exciting is in the works – there's a crowdfunding campaign to make power banks in the iconic style of the Half-Life HEV Charger.
An "HEV Charge Monitor and Power Bank" funding campaign launched on IndieGoGo by electrical engineer András Gajdács and two other team members aims to bring the orange version of the wall-mounted devices "to your home or backpack" as little personal chargers – one portable and the other wall-connected. Best of all, they'll come with "various sound and visual effects."
The first proposal, the HEV Charge Monitor, is a lower-budget option, which needs to be connected to both a wall power source and your phone. It'll monitor and display the charging of your device and will feature a menu system, letting you assign effects to some events. It'll cost you £24 (around $29.60). The second, the HEV Power Bank, will be a standalone item ready for charging on the go, with faster charging and even more options for adding effects to events. It'll cost £40 (around $49.30).
The way it looks is obviously key, too – and looking at the early designs, I think most Half-Life fans would approve. Judging from the pictures, it'll be around the size(ish) of a smartphone, but recreates the orange HEV charger pretty faithfully, with "charger ready" screen and circular cable port included. You can check it out in a video posted by the creators below.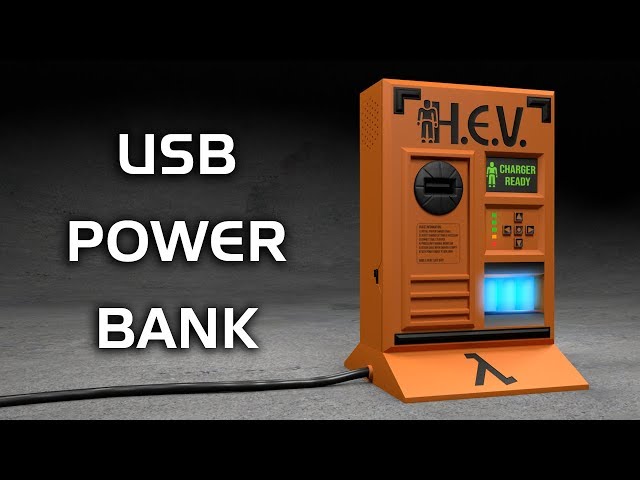 The campaign page says that the project is "practically non-profit", with most backers' contributions going towards development of the products, and other costs involved in their creation.
There's a timescale for when the creators hope to progress the product if it reaches its goal, with March 2020 being the estimated shipment of pre-orders. It's currently just at the concept stage, but if you're keen to find out more about the project, head over to the IndieGoGo page and check out the plans.