Heroes of the Storm characters have always been migrated over from Blizzard's most iconic universes. Overwatch's cheeky Brit Tracer is in there, ferocious orc warchief Thrall from World of Warcraft too, and Diablo's undead skeleton king Leoric.
You can choose from a roster of over 80 Blizzard characters to brawl it out in the multiverse of the Nexus. That's a lot. Which is why it's surprising it has taken until now, three years since the game released in 2015, for Blizzard to introduce a completely original character.
The floating gothic assassin, Orphea, is the first character to be born from within the Nexus – the first Heroes of the Storm character created from scratch.
"Being able to build our own hero, story wise and design wise, everybody was so excited," concept artist Peter Lee says. "We love bringing in more heroes from different universes but we have to stay true to the original design. With Orphea, we had almost total freedom, and it gave us a lot of design opportunities."
To create this first original character, the Heroes of the Storm team wanted to return to the foundations of the game, delving into the lore of the Nexus universe. "We've covered every IP of Blizzard's universes and that gave us motivation to go back to the original roots of the game," Lee explains. The team decided to approach this from the character of the Raven Lord Oberon, who is the announcer for two of the game's battlegrounds, Cursed Hollow and the left side of the Towers of Doom.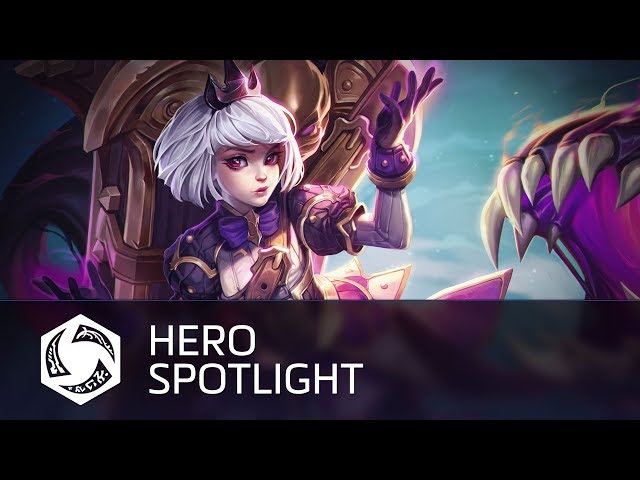 "We gravitated towards the Raven Lord as one of these iconic announcers that everyone had been hearing from the very beginning on Cursed Hollow," production director Kaeo Milker says. "This idea started floating around where we talked about the Raven Lord's daughter – something that we just kept talking about."
Milker explains that the design for Orphea came from concept artist Oscar Vega. Once the team saw it they instantly fell in love with the style. "It really captured all of our imaginations," Milker says. "This combination of this this graceful dancer and this giant gothic box on her back, and then this dark monster beast thing kind of floating around her, it just grabbed us. I don't think we ever looked back from that."
Orphea's story focuses on her anger at Oberon for his wrath over the Nexus and her decision to turn against him to stop his reign. Her playstyle and abilities come from a combination of her gothic looks and her ability to float and dance around the battlefield. "We played with the dancer animation" Lee says. "Graceful and very agile, but it also has some style to do with the monster in the closet. That was something that everybody feared when they were a kid."
Orphea's abilities combine her supple dancing moves with her monster companion – as she moves, enemies are swiped at by a giant claw or chomped by a giant set of teeth. Her attacks have a high damage count, too, and this contributes to a trait called Overflowing Chaos, which, when stacked, can increase her damage output and be used to self-heal.
Even though the team has created this first playable character from within the Nexus universe, Milker says any future heroes added to the game will come from Blizzard's IPs, at least for now.
"Being able to create everything from the ether, to take take this journey with Orphea and take her wherever we want to, is awesome," Milker says. "But I think we will continue to focus on Blizzard characters. It's just a question of if, and when, we do another Nexus born character, but you'll have to wait and see."