September means it's back to school season, and in Agent 47's case, that's Murder U. IO Interactive has a host of activities lined up for Hitman 2 this month, which are showcased in a brief rundown video that you can watch below.
The headline feature coming this month is Haven Island, a new sandbox setting set on an island in the Maldives. This is set after the New York mission, which arrived in June. It's another opportunity for 47 to put on the mirror shades and short sleeves before getting to work reducing the population of ultra-wealthy jerks. That arrives September 24.
But there's plenty to look forward to before then, and even if you don't own the season pass. Two Escalation Contracts were added September 5: The Dalton Dissection and The Covert Dispersal. The Dalton Dissection is set in the New York map, and you'll have to stay in the bunny rabbit bank robber outfit the entire time. For the Covert Dispersal you'll head back to Whittleton Creek to stylishly remove a group of undercover officers from a swish backyard backyard barbecue.
The Dubious Cohabitation escalation contract arrives September 12, and that's set in Mumbai. Completing this contract unlocks the pinstriped Cashmerian suit. The next day – Friday the 13th – sees the return of the legacy elusive target The Blackmailer, who you'll have to track down in Paris.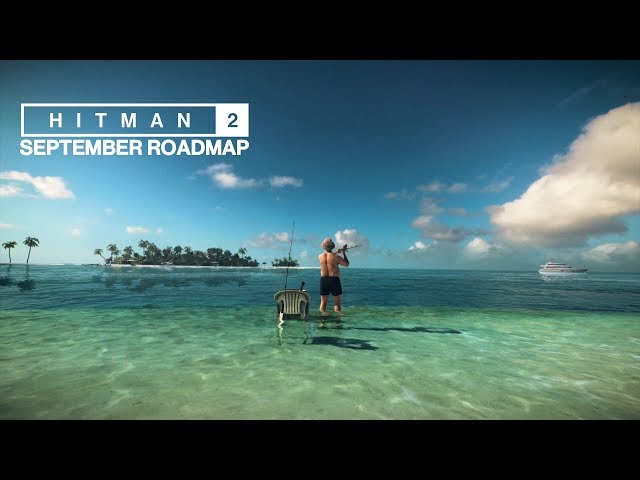 You'll have until September 16 to submit missions for this month's Featured Contracts, which will arrive September 19. The theme this month is 'Fierce Rivalry,' and the contracts that wind up being featured will have to incorporate this idea in some way. It's a bit like an episode of Chopped, but with stabbing.
We'll get a preview look at Haven Island September 23 with the IOI Monthly, with the map itself arriving the next day. September 24, Season Pass holders will also get access to two new special assignments, set in Miami and Whittleton Creek. That's also the day the next game update is due out, and IOI says that will include "improvements and fixes to all aspects of the game."
Rounding out the month is legacy elusive target The Angel of Death, also known as Etta Davis. Sure, she looks like a nice grandmotherly type, but her bedside manner back in the day left something to be desired.
One last thing: There's another escalation contract coming September 19, and completing all three stages unlocks the emetic grenade. That's a bomb that makes people barf. Hitman 2 truly is the game that keeps on giving.