It's official, the Honkai Star Rail launch date has been set. From the minds of HoYoverse, the development team being anime game behemoth Genshin Impact, this all-new RPG is set in the depths of space instead of the idyllic medieval world of Teyvat.
The Honkai Star Rail release date is set for April 26, and will be available via the Epic Games store for PC players. You can pre-register via the game's official website. Ahead of then, why not check out our Honkai Star Rail codes and Honkai Star Rail tier list guides.
If you do choose to pre-register, you'll be able to pick up a whole swathe of rewards to help gear up your character. You'll get 50,000 credits, 19 Star Rail passes, the Trailblazer – Welcome Avatar, and, last but very much not least, four-star character Serval.
For those of you who aren't familiar with Honkai, Star Rail is the fourth instalment in the ever-popular space series which, much like Genshin, tasks a team of four heroes and heroines with taking down the omnipresent Honkai, an enemy force that decays and destroys any civilisation that is caught in its way.
In Star Rail, your protagonist is tasked with uncovering the truth about the ominously named 'Cancer of All Worlds,' an entity that feels like it may fuel the Honkai's destructive march.
You'll be able to visit a whole plethora of different vistas, from the snowy mountains of Jarilo-VI to the spectacular Herta Space Station, a museum-like starship. You can learn about each world, as well as what to expect from the game itself, in the Boarding Preparation Special Program video below.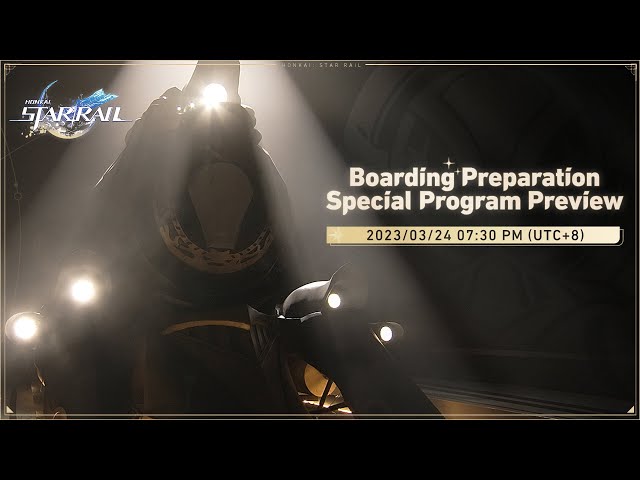 As someone who loves a good fantasy game but couldn't quite fall in love with the world of Genshin Impact, Honkai Star Rail's celestial visats and cyberpunk vibes are much more up my street. It reminds me of Hotta Studio's Tower of Fantasy, but given HoYoVerse are at the helm, I imagine it'll be a lot more polished.
If you're excited to dive into this brave new world, why not test out some of the best space games to get you in the mood? If the final frontier is your home away from home, I suggest you consider checking out everything we know about the Starfield release date, after all, it's set to be 2023's biggest astral adventure.