HTC has announced the Vive XR Elite, a new wireless VR headset that's designed to give the Meta Quest Pro a run for its money. Aiming to be an all-in-one device that's ready for the various different metaverses cropping up left, right, and centre, HTC combines both virtual and mixed reality into a single headset that undercuts the price of its rival by a third.
It's been a long time coming, as HTC has teased its new device through trademark filings, store listings, and image leaks since the Meta Quest Pro launched in October, 2022. It looks as though these were pretty much on the money, as the Vive XR Elite has a glossy design, alongside a camera and sensor on the front, and the battery pack connected to a single band at the back.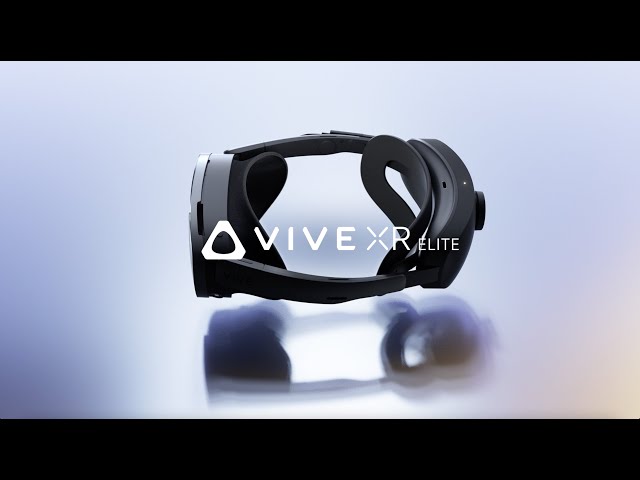 Side-by-side with the Meta Quest Pro, the HTC Vive XR Elite shares a lot of similarities. It has 12GB of RAM, a 90Hz refresh rate, and both are rated to last up to two hours on a single, full charge. They boast the same connectivity options, with WiFi 6E, Bluetooth 5.2, and a USB Type C to connect to a PC. The new HTC headset contains half the storage space of its competitor at 128GB, but many people consider the lower storage Quests better value for money anyway.
The XR Elite includes two open-ear speakers for audio, four wide FOV cameras, a depth sensor, hand-tracking, and capacitive sensing, but is much more customisable. You can detach the bulkier battery pack and opt for glasses-like stems if you fancy plugging it into your gaming PC or using your own powerbank. It looks like there's room for further attachments later down the line, too, such as a facial tracking module, although that's not part of the base package or yet confirmed by HTC.
The new device is far more lightweight at 625g including the battery compared to the Meta Quest Pro's 722g. This isn't too surprising, since the latter is the chonkiest VR headset in Meta's current line-up. The Vive XR Elite also has a slightly higher resolution with 1,920×1,920 per pancake lens, but we'll need our hands on the device to judge whether the difference is all that perceptible compared to the Meta Quest Pro's 1,800×1,920 per eye.
Naturally, paper-bound specs don't mean much when the real test comes in the performance. We'll need to see how well the two stack up against each other before making snap decisions on which should be crowned the best VR headset. That said, the Vive XR Elite has the edge in price at $1,099 USD / £1,299 GBP, which makes it far more gaming friendly than the $1,500 Meta Quest Pro.