Magical League of Legends champion Seraphine, released mid-pandemic in 2020, has divided the MOBA's community since her Summoner's Rift debut. The starry-eyed songstress sat at the top of the League of Legends tier list, then was relegated to the bottom after swathes of nerfs, but remains a fly in Riot's metaphorical ointment.
Lead champion producer Lexi 'Lexical' Gao has alluded to this in a recent statement discussing the state of Riot's champion team, as well as the struggles it faced throughout the pandemic. As employees shifted around and priorities changed as a result of COVID, she writes "whenever we lose someone, they are very painful to replace. Knowing that, we had to slow down a bit and regroup in order to set up a better and more productive future."
Of course, this has downsides, specifically regarding updates (namely VUs, VGUs, and VgUs) to older champions which she notes are "generally more complex than making a new champion."
"Not only does the old champions [sic] have a multitude of relationships to examine, our IP touches so much more than League of Legends. Updates are a way to re-establish the world building around them and also have a deeper look at what worked and what didn't." It's the next part that's particularly interesting, though, as she writes in brackets "cough, Seraphine, cough."
From the get go Seraphine's ability to stun, heal, and charm has made her quite the nightmare, effectively benching fellow musical support, Sona. She dishes out enough damage to be a midlaner, but makes for a good support given her focus on crowd control. I play her in the bot lane, and partnered with several ADCs she can be quite the pest.
As for her visuals, I'd be a liar if I said I liked them. While her abilities look good, the weird, clunky stage she stands on just looks bizarre, and she'd look a lot better just running, or even floating on some magical musical notes. Anything but the stage. When she finally released after Riot's extensive Twitter campaign I had no real interest in playing her because her visuals just looked awful – it took me two whole years to pick her up.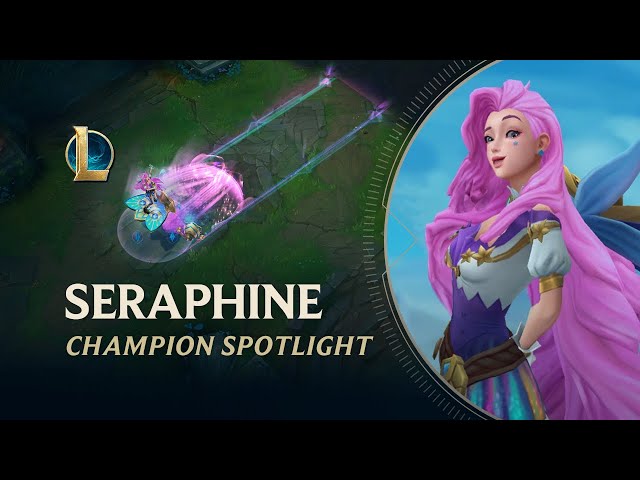 Does this mean a Seraphine VU, VGU, or VgU is in the works? Who knows, but Gao does highlight that the team is focused on Skarner at the moment, who has gone neglected for quite some time. As a Sera fan who has been on board since the K/DA MORE days though, I hope we see the budding superstar get some love.
Until then, I'll have to hold off on checking how much I've spent on League of Legends – spoiler alert, I have all of Sera's skins, so that'll be a decent total already. Perhaps I'll try out some other multiplayer games instead (and probably spend money on them too, let's be realistic).