League of Legends developer Riot Games has revealed the recent revival of the MOBA game's virtual pop group K/DA is just one part of its aim to "one day have a thriving music universe". The group has had an enormous, months-long comeback this year following its debut at the LoL Worlds 2018 Championship, with a new EP, music clips, comics, social media accounts, a Worlds 2020 performance, and collaboration with new Champion Seraphine – but it seems the studio has plans to take the multiplayer game's music scene even further in the coming years.
"Our hope is to one day have a thriving music universe that fans can interact and engage with in unique ways – and, for us, music is key," head of Riot Music Group Toa Dunn explains in a press conference. "All of this is in service of creating these lasting memories and pop culture moments that resonate with players and fans alike."
Explaining the importance of K/DA and League's previous virtual acts in the game's intersection with the music world, K/DA and Seraphine creative lead Patrick Morales says: "Much of what began as a celebration of music has gone on to inspire content from skins to limited-time in-game events," both in League and Riot's card game Legends of Runeterra.
"Year over year, we strive to push the boundaries of gaming and entertainment," Dunn goes on to say, "with acts that seamlessly blend technology, creative, and music. While we can't promise or talk about our immediate future endeavours at this moment, we hope you look forward to seeing what more we have in store for you."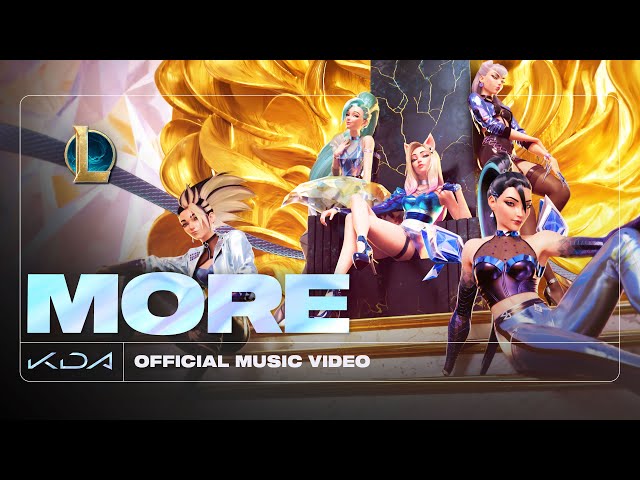 Aside from more K/DA content to come over in the rest of 2020, as the group promotes its new EP, the studio's not giving much away about what these plans to expand its musical universe involve. However, in touching on what's come before, Dunn gives an idea of where League of Legends' musical future could go.
"We're super passionate about many different genres and styles of music. When you really look at the music universe, we have K/DA, which sits in that global pop and k-pop realm; we have Pentakill, of course, one of our favourites that has two albums from the past; we have DJ Sona; of course, True Damage. So there's really a lot of opportunity for us to continue to express our passions in the different music.
"Are we going to continue and only do K/DA moving forward? No, of course not. I think there are many people on our team that are just waiting, and itching, and even working on some projects now," Dunn explains. "Stay tuned, and you'll see."
K/DA's new EP 'All/Out' launches this very day, November 6.