Controversial League of Legends streamer Tyler1 appears to have been completely forgiven by the game's developers, Riot Games. The streamer showed up in a guest capacity during the recent NA LCS Finals, which took place last weekend.
Tyler1, who enjoys the reputation of one of the most-watched League of Legends streamers on Twitch, has had a spotted past when it comes to the game. His behaviour led to a permanent ID ban in 2016. After more than 20 of his accounts were banned, Riot put in place measures which meant that any account the streamer was found to be playing on would be automatically banned, effectively ending Tyler1's ability to stream the game.
The ban lasted for around 18 months, before Riot eventually overturned the punishment. Tyler claims to have "reformed" since his punishment, and has yet to be sanctioned again since making his return a year ago. In fact, he's been doing very well – his first League of Legends stream after the ban was lifted briefly held a record for the most concurrent viewers on Twitch.
Over the weekend, Tyler1 showed up at the NA LCS Finals. He appeared briefly on the analyst desk. Later in the show, he also appeared in a show match alongside several other members of the community.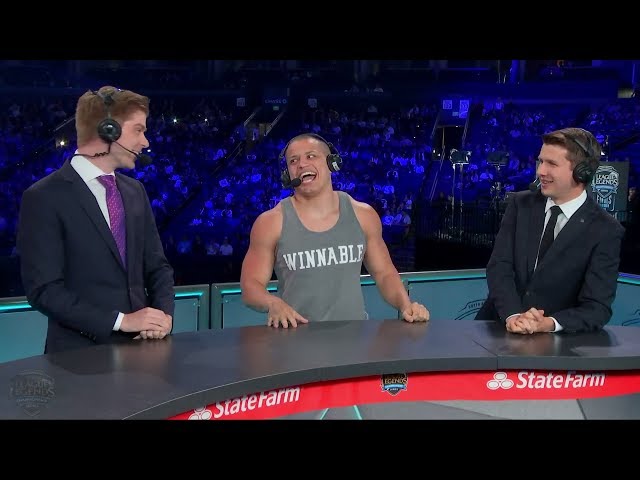 This wasn't the first time a League of Legends personality has appeared alongside Riot employees at an event like this – most notably, pro-player Doublelift filled in during Worlds 2015. Though Tyler's past makes him a more controversial choice. You can watch Tyler1's appearance in the video above.