This isn't the first desk that houses a PC gaming system, but it might be the first one that houses two. That's right: Lian Li's DK series can hold up to two fully-featured gaming PCs within its desk surface, and you can even hide the components when you don't feel like typing over a pulsating RGB lighting system.
You have two options with Lian Li's new motorised standing desks: the DK-04F, which can hold one gaming PC build, or the DK-05F, which holds up to two. Both feature removable motherboard trays that slot into a surprisingly roomy desktop that's covered with 8mm of tempered glass that clouds over at the touch of a button to conceal your precious components.
The space for the gaming PCs comes from a large compartment slung under the desk surface and positioned at the back of each unit, which gives your legs room to bounce around while you're sitting at it. However, a motorised lift system raises the desk surface from 689mm (2.26 feet) to 1175mm (3.85 feet), giving it a good range for a convertible standing desk.
Here's the sizzle reel for the 05F, with RGB lights a-flashing: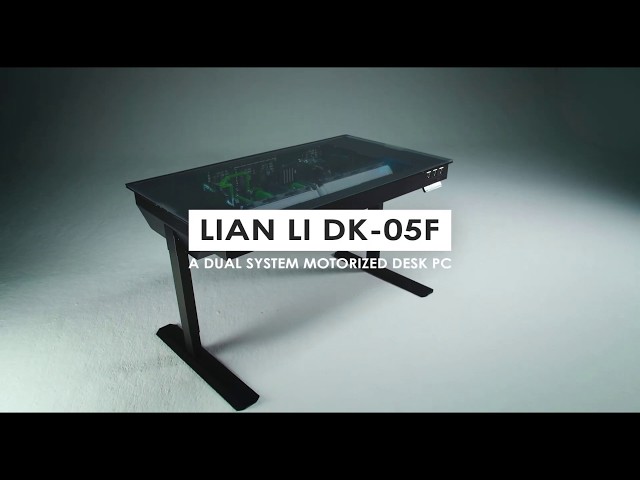 Why have two PCs built into a desk? For one thing, it gives you the freedom to run video editing or streaming out of one while the other can be reserved for gaming duty. There's plenty of room for just about any setup – the motherboard trays support layouts ranging from mini-ITX to E-ATX, so even bigger systems have lots of space for water cooling and creative lighting.
It will set you back a pretty penny, however. The single system DK-04F lists for $1,499 (about £1,200), while the dual system 05F is $1,999 (£1,600).
Think of it as an investment, though – specifically, in the real estate you'll be freeing up by not having to worry about where to place your PC cases. You'll have plenty of room for an ultrawide monitor, and it's a lot healthier (thanks to the standing desk capability) than that gaming bed setup we saw a few months back.