Following its success on Nintendo Switch, the Live A Live remake comes to Steam in April, with a free demo letting players get hands-on with the remake of the classic, time-spanning JRPG game from today. Coming from Square Enix, the publisher behind such classics as Final Fantasy, Dragon Quest, and Kingdom Hearts, the Super Famicom game has previously flown somewhat under the radar, before getting new life with a remake in 2022.
Live A Live spreads its story across eight different protagonists, each of whom features in a different setting and time period. These range from the prehistoric caveman Pogo through to Edo period ninja Oboromaru, present-day fighter Masaru Takahara, and even maintenance robot Cube who works on a cargo ship in the distant future.
As you progress through each story, you'll begin to notice threads tying the events of each period together. It's a format that might be more familiar to modern audiences with games such as Octopath Traveller that have adopted a similar structure, but now western audiences have a chance to give Live A Live a shot for themselves and see what made it one of the more interesting and experimental RPGs of its era.
Live A Live is also well worth your time for its spectacular soundtrack, composed by Yoko Shimomura – initially known for her work on the Final Fight and Street Fighter II soundtracks, and who would later go on to gain even more widespread acclaim for her work on the Kingdom Hearts series. If you love an RPG OST that's packed with wall-to-wall jams, you'd do well to give Live A Live a listen.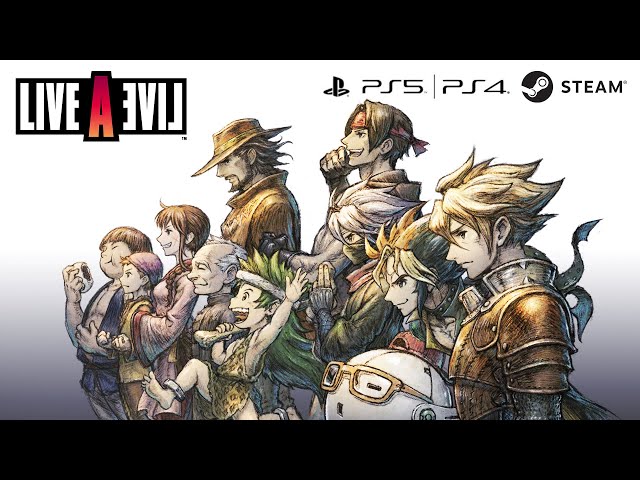 Live A Live release date and demo
Live A Live releases on April 27 on Steam alongside PlayStation consoles. It's also available at a 20% discount for pre-ordering. The Live A Live demo releases on March 30, and Square Enix notes that your saved game progress can be carried over to the full release once it arrives – so why not give it a shot and see what you think?
Check out more of the best classic PC games if you love that retro vibe, or more great upcoming games if you prefer to look forward to the future.