Have you ever wanted to be a little white metal ball with a cute animated face and insanely advanced technological skills? No? Well, neither did we until we saw the trailer for Main Assembly, a new robotic building game from the folk at Bad Yolk Games (we like the rhyme, ok?)
The idea behind Main Assembly is that you get to build a whole host of individual contraptions to achieve solo challenges, or play with your mates in multiplayer mode. Using freeform crafting tools you can design and build your own robots – including vehicles such as bikes, cars, and even planes – and then program their behaviour with a drag-and-drop visual tool. Bad Yolk Games wants you to explore the realms of technological possibility, and fire your imagination with challenges to make you think afresh about what technology and robotics can achieve.
Main Assembly is made in Unreal Engine 4. Why Unreal? The team at Bad Yolk Games may be small at only eleven people, but they have a lot of development experience between them, according to studio head Mike Paixao. "Our studio has very senior developers, and Unreal felt like the natural choice to leverage that experience. Our team members have a mix of Unreal experience over the years, ranging from professional to personal."
Main Assembly is built around a trinity of "key systems," Paixao tells us. These are "building, physics, and multiplayer. These will be forever tweaked and improved as we move forward." The game is set to launch in Steam Early Access some time before the end of the year, meaning construction is still ongoing in all three of these areas, but Paixao was happy to lay out the key challenges in each department.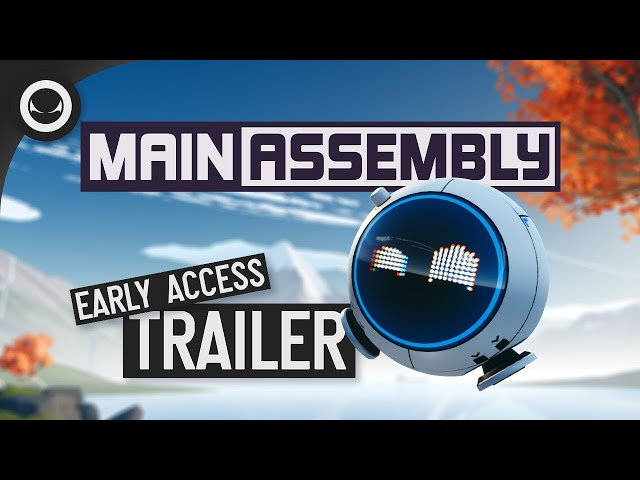 When it comes to building, "working with player-generated content, something that can take any shape or form," caused the team a few headaches. When you give a player creative freedom, you have to work out every move they might want to make and have your game's systems react accordingly. Main Assembly needs "to simulate, and work together as a cohesive whole, while behaving the way a player is expecting."
In other words, the team has to create a game where the player can both make anything they want, but also they can do it how they want, with friends or otherwise. "Round[ing] it all off with multiplayer networking" added a further layer of technical difficulty on top of all of this, but it's essential to building the kind of cooperative, ideas-sharing community that Bad Yolk wants to see.
Main Assembly is a crafting game – a genre "not traditionally produced" in Unreal, as Paixao puts it. And yet, Unreal's tools enabled Bad Yolk to experiment and iterate quickly when building the tech that was needed to find out what worked and what didn't. "A lot of prototyping can be done quickly in Blueprints before committing to the code. It also gives non-coders the ability to set up and prototype elements of the game."
The Blueprints Visual Scripting tool, or just Blueprints for short, is perhaps the Unreal Engine feature that gets the most regular praise in this series. It uses a node-based interface to quickly conceptualise and prototype game elements in a way that non-coders can understand. For those that do code, however, it's in C++, so developers can still build off these tools with their own knowledge. When your team is as small as eleven people, empowering even non-coders to program game elements is a game-changer.
The third element of Main Assembly is its physics simulation, which needs to be accurate and consistent for players to see what they're expecting to see when they start their contraptions up. "When we first started the project, we used [Unreal's] built-in physics engine," Paixao explains. "We very quickly ran into limitations leading us to strip away said engine and moved to an open-source solution." No engine can be truly universal, but fortunately, Unreal is flexible enough to enable developers to plug in third-party tech in this way according to their needs.
Main Assembly brings these three elements together to empower players' creativity, giving them the tools to solve problems through technological design. Bad Yolk is very much hoping this will fire players' imaginations and have a real-world impact: "If Main Assembly can become a tool to help get more people interested in robotics and engineering, it will be very exciting to see what kind of possibilities that are created," Paixao says.
Accordingly, Bad Yolk is aiming "to keep the core gameplay within the realm of reality – for example, controlling motors and servos based on giving at -1 to 1 range, similar to how real-world robotics are handled."
Paixao also stressed that working alongside the community is critical – in addition to his duties as studio head, he is also a community manager, and keeps up with YouTube and Twitch content even on the weekends. "We were fans of building games for many years, before ever starting to create our own. Our goal during Early Access is to listen to the community and build the final release together with players' inputs and suggestions."
Main Assembly will launch in Steam Early Access sometime later this year and you can learn more on its Steam page. Unreal Engine 4 development is now free.
In this sponsored series, we're looking at how game developers are taking advantage of Unreal Engine 4 to create a new generation of PC games. With thanks to Epic Games and Bad Yolk Games.