Did you watch Minecraft Live 2022 yet? Mojang's big annual celebration event for one of the best crafting games of all time aired on October 15, with announcements including the much-anticipated result of the Minecraft mob vote 2022 where players lined up to choose which of three mobs will be next to join the sandbox game. We also got news on the next major update, Minecraft 1.20, and the announcement of a Batman DLC pack.
Fans of DC comics will be happy to hear that the caped crusader and chums are coming to Minecraft. The Batman DLC pack release date is October 18, and features all your favourite heroes and villains. There's skins for Robin, Batgirl, Nightwing, Red Hood, Harley Quinn, The Joker, The Penguin, and even more dastardly villains – and Batman himself, of course. Players can also get their Dark Knight on right now with a free Batman Cap available in the Minecraft character creator.
The Minecraft mob vote also came to a conclusion, with the Sniffer coming out on top. The ancient, tortoise-like creature can be brought back to your modern-day world by uncovering mysterious eggs in Underwater Ruins chests, and will help your farming potential by sniffing out seeds from any nearby flora. The idea has proven extremely popular, propelling the pet to a staggering 55.1% of the total vote, with the Rascal coming in second at 27.7% and the Tuff Golem just getting 17.2% (we still love you, Tuff Golem).
Perhaps the biggest news is the Minecraft 1.20 update. Mojang says this next big step is "designed to inspire self-expression, representation, and storytelling through your Minecraft worlds." As such, default skins Alex and Steve are being joined by seven newcomers to offer a wider representation for players. These new figureheads are Sunny, Kai, Makena, Zuri, Efe, Ari, and Noor – they'll be joining the game on November 29, and you can see them below, from left to right (with Steve and Alex in the middle).
Gameplay developer Brandon 'kingbdogz' Pearce explains that the team intentionally hasn't named the update for now "so we can shape the update with the community and give a name that fits its content." He says that "By giving it a name now, we give expectations, and we could underdeliver," adding that some players felt that Minecraft 1.19 The Wild "was not wild enough" and that the name might have changed if the team had realised it would have ended up spending more time refining the Ancient Cities for the update following player feedback.
The update preview also shows off several more features, such as hanging signs to help make your towns feel even more authentic. Chiselled bookshelves can be used to store and retrieve books and quills, or combined with redstone to create secret doors opened by removing books from a shelf. A new rideable camel mob can be found in desert villages, and can carry up to two players at once on its back. Bamboo crafting lets you build planks, doors, houses, and more with the plant – you can also make a new boat variant, the raft, to add even more style to casually floating down-river.
Mojang says that fans will be able to get their hands on these new Minecraft 1.20 features very soon, as there'll be an update on the beta snapshot preview in just a few days following the Minecraft Live broadcast. If you want to do this, you can enable snapshots in the installations tab of the launcher for Java Edition, or opt into the beta by following these instructions for players on Bedrock Edition.
We also got news on other games in the Minecraft universe. A new Minecraft Legends gameplay demo showcases the upcoming Minecraft strategy game, with a dive into how players can traverse the overworld and some of the creature designs you can look forward to. Action-RPG game Minecraft Dungeons also got a big update, with news about the four-player co-op tower dungeon, a Spooky Fall Halloween event, and a Minecraft Dungeons season three release date set for October 19.
If you're pressed for time, the Minecraft Twitter account wraps all the announcements up nicely in a short video. Alternatively, you can watch the full broadcast for yourself below: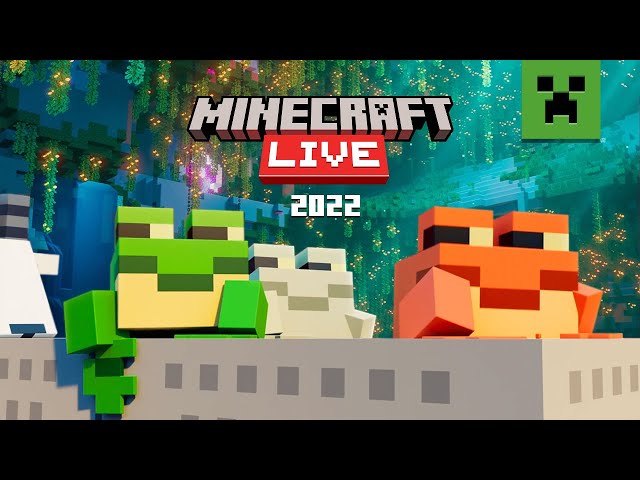 Whatever your favourite flavour of Minecraft may be, it seems Mojang has plenty on the way for you. In the meantime, we've got plenty of the best Minecraft skins to dress up your characters, and the best Minecraft mods to help tweak your experience to perfection.