Half Life: Alyx is launching, oh, about any minute now, and Nvidia GeForce's latest Game Ready drivers are here just in time. The Half-Life Alyx release time is set for 10:00 PDT (17:00 GMT) today, and if you're looking to play it on an Nvidia GPU, the latest Game Ready drivers will make sure Alyx uses your hardware to its fullest potential.
Half Life: Alyx, set between the events of Half-Life and Half-Life 2, is Valve's long-awaited VR exclusive addition to the Half Life series. (Let's hope you've already got one of the best VR headsets for PC, otherwise you might be sitting this one out… that or watching it like it's a spectator sport.)
While Valve's latest VR experience might be the game on everyone's lips at the moment, the latest GeForce Game Ready drivers aren't only for Half Life: Alyx. Also bundled in Nvidia's latest driver packages are driver optimisations for Resident Evil 3 and Ghost Recon Breakpoint.
Its Game Ready driver package also adds DLSS 2.0 to two games: Control and Mechwarrior 5. DLSS (deep learning supersampling) 2.0 improves on the previous DLSS 1.0 technology by using a new neural network. The neural network can accomplish much more and "basically solve for all the game variability, as opposed to having a poor set of engineers trying to solve for all that," says Tony Tamasi, senior VP of content and technology at Nvidia.
Still, none of this DLSS stuff will impact Half Life: Alyx – and that'll probably be the case for a while, too, considering the technology for DLSS is still in its infancy on single-screen, non-VR setups.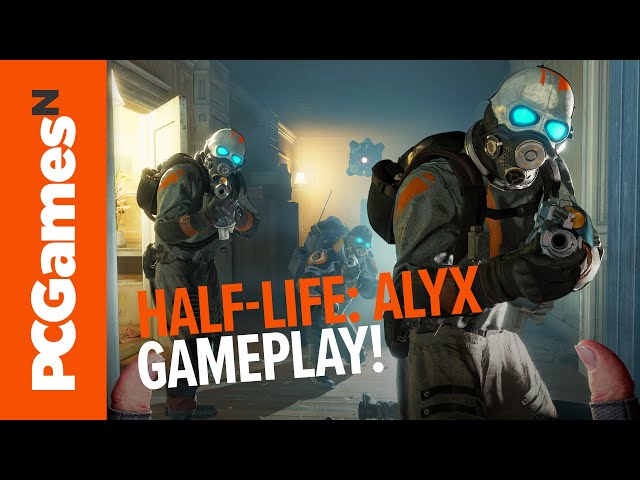 Given how fast VR headset stock has been flying off the shelf, and given the Valve Index's stock issues, your best bet at playing Half Life: Alyx has probably been to buy HTC's Vive Cosmos Elite, which was recently announced to ship with copies of it.
Provided you've got a VR kit and have Half Life: Alyx downloaded and installed, the only thing left to do before you immerse yourself is get the right drivers. You can install these Alyx-ready, DLSS 2.0-touting drivers through the GeForce Experience 'drivers' tab. Or, if you don't use GeForce Experience, you can download the drivers directly from Nvidia's GeForce drivers page.