Tomorrow we should hear some details about Nvidia's Ampere GPU architecture when the company hosts its graphics technology conference (GTC) 2020 keynote. Yesterday, however, Nvidia CEO Jensen Huang posted a YouTube video teasing what is most likely an Ampere graphics card in a curious fashion.
Nvidia's YouTube video (via VideoCardz) is titled "What's Jensen been cooking?" and shows Jensen pulling a giant graphics card out from the oven, stating "this has been cooking for a while… What we've got here is the world's largest graphics card". And, lo and behold, a whopper of a card is removed from the oven. We're talking 'barely fits in the oven' size, here.
Now, don't you eager beavers get thinking your new high-end gaming rig could sport an oven-sized graphics card – that would be preposterous. Instead, this looks like a glimpse of the Nvidia DGX A100 graphics card based on the GA100 GPU, a professional graphics card for use in servers and for high-performance compute tasks, its primary market being businesses, not consumers.
Considering the timing, it would make sense for this to be a new Ampere DGX or HGX graphics card, since Nvidia's GTC keynote tomorrow will be centred around high-performance computing (HPC) and should unveil details about the Ampere architecture.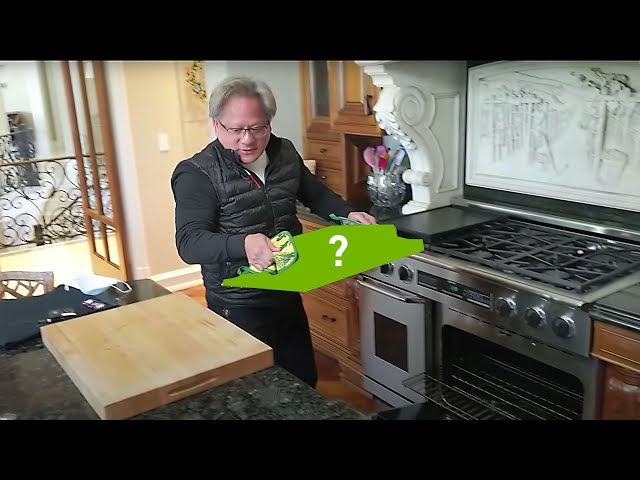 But what we learn about HPC parts could very well tell us lots about upcoming consumer parts, especially considering the rumours that, unlike the Turing/Volta split, Ampere will be both a gaming and professional architecture, meaning what we learn about one could tell us a lot about the other.
The graphics card in the video appears to feature eight Tesla A100 processors, and heatsinks that are bigger than those of equivalent Volta-based HPC graphics cards. While nothing is confirmed, rumours and best guesses have a single GA100 GPU sitting at 128 Streaming Multiprocessors (SMs) and 8,192 CUDA cores. To put that into perspective a little, an Nvidia RTX 2080 Ti has 68 SMs and 4,352 CUDA cores.
Still, the main takeaway from the video isn't anything technical. It's that the graphics card is big. That's it. The biggest, in fact. Jensen Huang took a big graphics card out of an oven. Tomorrow, we might hear more of the techy specs and actually get some confirmed information about Ampere, but for now, we're happy with Jensen's kitchen escapades.