The age of PCIe 4.0 is over: long live PCIe 5.0! The new generation of SSDs are hitting the market, and wowing us with their incredible sequential read and write speeds. The performance jump from PCIe 4.0 is well-documented, but it turns out there's more left in the tank for PCIe 5.0 SSDs. Testing done on the new Crucial T700 SSD shows that Nvidia's latest GeForce Game Ready driver version boosts the performance of PCIe 5.0 SSDs above their already impressive levels.
Let's back up a bit. Just what's all this about PCIe? PCIe (or Peripheral Component Interconnect Express) lets you connect GPUs and SSDs to your motherboard with a high-bandwidth expansion bus. PCIe 4.0 was cream of the crop until recently, boasting a data transfer rate of 16 gigatransfers per seconds. Now, PCIe 5.0 doubles that to 32 GT/s. Impressive speeds have been demonstrated by the newest SSDs to hit the market, but we're already seeing a performance boost with the latest drivers from Nvidia.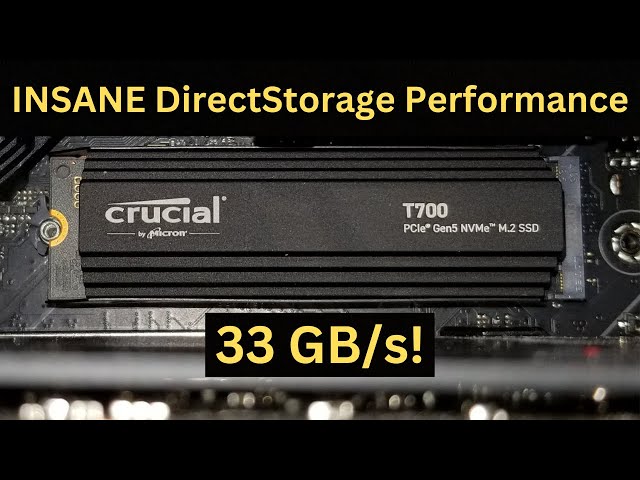 YouTube channel Compusemble ran a side-by-side comparison showing the performance differences for the Crucial T700 between Nvidia's older 532.03 version of its Game Ready driver and beta 535.98 version. The results are stark.
When tested on the older 532.03 driver, the Crucial T700 demonstrated a 26% performance increase over its unknown PCIe 4.0 counterpart. But its speed on the beta 535.50 driver blew that out of the water, with a 45% performance increase demonstrated, and a bandwidth milestone of 33.12GB/s reached. This shows how keeping up-to-date with the latest software could be the key to unlocking the potential of your PCIe 5.0 SSD.
In the market for a new SSD? While we're waiting to get our hands on the latest generation of solid-state drives to see if they get our seal of approval, make sure you check out our guide to the best gaming SSD on the market right now.