Oculus Quest, a VR headset that doesn't require a PC to function, has been announced for a Spring 2019 launch. The standalone headset will cost $399, and features totally wireless control with no external sensors required. All the rendering is dealt with on the headset itself, potentially marking Oculus' departure from the PC space for the time being.
Gamers have been waiting on the next-gen of the Oculus Rift headset ever since the first headset left development and went into volume production. Facebook subsidiary Oculus, however, has decided to take another route with its latest headset, instead favouring the all-in-one virtual reality experience to one tethered to a powerful gaming PC.
The Oculus Quest features a 1600 x 1440 per eye display, built-in audio via two speakers within the headband, a battery of unknown capacity, and 64GB of internal storage. All the motion is controlled via two Touch controllers and the headset's own inside-out tracking, named Oculus Insight, powered by four ultra-wide angle sensors on the exterior of the device. Think of the Oculus quest as a high-end Oculus Go, the VR company's first attempt at a standalone virtual reality device.
Oculus, along with other big players in VR, are all desperately trying to get more users into headsets and enthralled within virtual reality. The Oculus Quest is an attempt to widen its audience by removing the barrier to entry that a capable gaming PC can pose to a wide consumer base.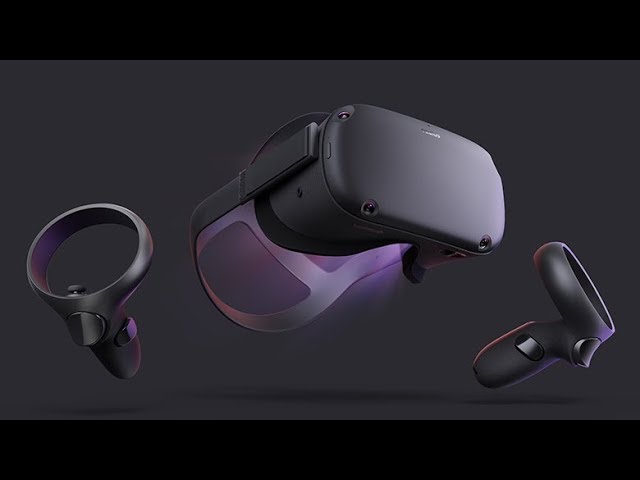 "We don't want you to have to go to an experience to get the VR devices we build," Nate Mitchell, co-founder and VP of product at Oculus, tells me. "You should be able to use VR in your home and your office, wherever you are.
"And so we hope that part of what happens is people experience VR, whether it's on Go or something like that, and then they say, 'Hey, I really want the are in my life' and go out and buy an Oculus device."
Oculus Quest will launch with 50+ titles supported in the initial catalogue, with titles from the Rift such as Robo Recall, The Climb, and Moss supported from day one. Whether most Rift exclusives will be ported over to the headset is yet to be seen, and all depends on whether the tech specs of the Quest are capable of driving some of the high-fidelity experiences available on the tethered Rift. The Oculus team seem quite confident it can be done, however.
Oculus hasn't confirmed all the tech specs for the Quest as of yet, but taking a guess as to the thermal and power limitations of a standalone device of the Quest's size, the Oculus team are undoubtedly incorporating Asynchronous Spacewarp and Asynchronous Timewarp technologies to reduce the hardware demand.
VR is highly-demanding, and requires high framerates, usually above 90fps, to stay nausea-free. That will be a tall order on a standalone device without some degree of tech trickery, but Oculus has been working on its own answers to these hardware limitations for quite a while.
"We're working on a bunch of graphics technologies to reduce the performance cost of VR," Mitchell says, "and either, A, reduce the class of GPU that you need to get into VR, or B, just give developers more magic that creates more headroom for them to push performance even further on the existing space.
"We pioneered Asynchronous Spacewarp, Asynchronous Timewarp, and we're definitely excited about some of the potential, especially for eye tracking, to help with performance and actually do some pretty novel things with games."
The Oculus Quest will complete the first generation of Oculus products. It looks like PC gamers will be waiting until the second-gen arrives, whenever that may be, for a PC-dependent headset to advance on the tech specs of the Rift.