Oculus has announced Oculus Link, a new feature coming to its Quest headset that will offer users a tethered PC VR experience and access to the Rift S library on their standalone VR headsets.
The Oculus Quest was announced one year ago today at Oculus Connect 5. This discrete $399 device is capable of displaying and rendering games and apps built for the platform from its onboard processors, without need for any external silicon or tether. Yet, as a wire-free unit, it was previously unable to hook up to users' PCs for a full-fledged tethered VR experience leveraging your graphics card – necessary for the utmost immersion and fidelity in VR experiences.
However, at Oculus Connect 6 the VR company, owned by Facebook, announced this feature is headed for the Quest headset. Requiring only a USB Type-C cable, the Quest will soon be able to connect directly to your gaming PC. And thanks to a new "low-latency custom rendering and streaming pipeline" is able to stream the best Rift games to the pared down headset.
The new pipeline ensures minimal latency, Oculus' lead system architect says at the event. All controller and tracker data will still be processed on the Quest headset, but instead offloaded to your gaming PC where the Rift content will be rendered. From there all the information is encoded and sent down the cable back to your Quest headset where it's decoded and latency mitigation is carried out to ensure it's lag-free.
"When we look at the PC and the Rift, we see a great catalogue of content with many years of development behind it," Oculus lead system architect, Behnam Bastani, says. "We also see a strong graphics processor that can bring you a great high fidelity VR experience. With Oculus link, what we're bringing to you is a great catalogue of content on Rift at high-fidelity onto quest."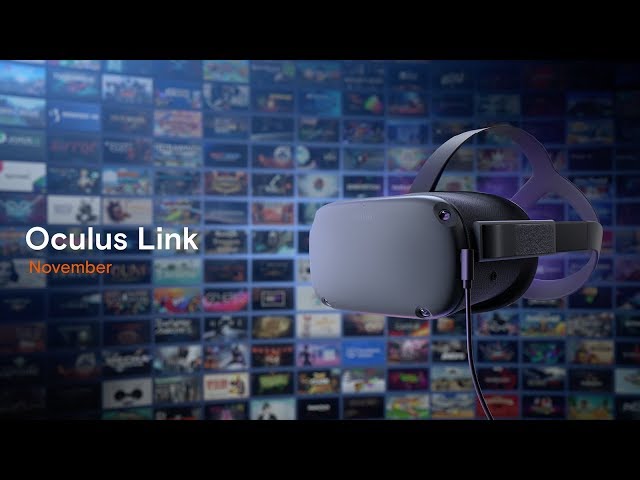 The feature goes into public Beta in November, roughly at which time Oculus will also have its own lightweight USB Type-C cable ready to ship if you fancy official kit. Any high-quality cable you have lying around will reportedly be sufficient, however.
Read more: The best VR games on PC
The new feature is a significant milestone for PC VR gaming, folding at least some of the vast standalone VR market into the world of PC VR. That could make the platform a little more appealing to game devs, who will be able to utilise the Quest directly for Unity and Unreal development as they would the Rift.