There's a lot of People Can Fly's videogame history in new sci-fi shooter Outriders. Sprinting from cover-to-cover under fire from foes is reminiscent of Gears of War: Judgement, and some of the dark humour will make the most hardened Bulletstorm fan grin. While People Can Fly helped out with Fortnite under the name Epic Games Poland, the battle royale's microtransactions and games-as-a-service model will not be present in Outriders.
"There will be no microtransactions," game director Bartosz Kmita tells us – firmly. We ask what the developer's thought process is to garner a little more insight. "We're players first before developers," he continues. "So we asked ourselves, 'Do we like microtransactions?' No. Okay, end of the thought process." Well, that certainly appears cut and dry, then.
Shortly after People Can Fly were snapped up by Epic Games in 2012, one of the developer's founders, Adrian Chmielarz, departed. Speaking to Polygon, Chmielarz explains that he felt the developer's games-as-a-service focus would hamper his ability to develop narrative-driven games. As such, we ask Kmita if People Can Fly maintains this now it's independent again and making an old school shooter.
"Some games can be good and fun with this kind of monetisation," Kmita reasons. "But I think for our game it was important to have a story that starts and finishes. We realised this game wouldn't work as a games-as-a-service title and we wanted to go back to the old school way and release everything with the game."
As Kmita mentions releasing everything with the game, we double-check to affirm if there are plans for post-launch content. "We're not talking about the future of the IP right now," studio head Sebastian Wojciechowski tells us. "We've created a very exciting dark sci-fi universe we would like to explore, but at this point we're focusing on this game."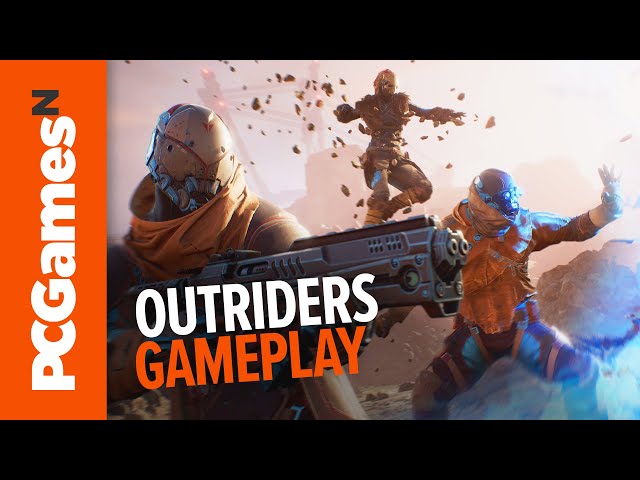 If you like old PC games, then you may like People Can Fly's new sci-fi shooter. As we dip into with our Outriders impressions, the moment-to-moment gunplay has the weighty feel Gears of War, and you'll soon notice Outriders' fondness for Diablo's loot system and darker style of world-building. The Outriders release date isn't too far off either, and you can get your hands on People Can Fly's new shooter before the end of the year.