Overwatch, a game famous for its hectic high speed gameplay, is surprisingly getting a young adult novel some time next year (via Polygon). May 2020 will see the release of The Hero of Numbani a story focusing in on the background of Orisa, her creator, and the villain Doomfist.
Fans have always been interested in the stories behind the characters and personalities of Overwatch, enjoying not just the new mechanics they bring to the table, but also their pre-game spats and laughs. As much as this FPS is about who can aim better, the interpersonal relationships between the characters are just as important. Perhaps this is why Blizzard has chosen to release a novel about the shared story of Orisa, Doomfist, and Efi.
Historically any additional information about the characters of Overwatch has come through animated shorts, comics, or a combination of the two. A book is a new medium to Overwatch and it's an intriguing decision as most dedicated players know the story behind Orisa's creation already.
From the description released on Amazon, the story takes place centred around Efi Oladele, the young girl who built Orisa and the events that lead up the goat-horse-thing robot's creation. From plot hinted at on the Numbani map and the original introduction to Orisa, we know most of the circumstances already. Doomfist, the bad guy with a massive hand, tries to destroy the African city of Numbani, disrupting the harmony between its residents – humans and omnics (sentient robots). Efi, a child genius, reconfigures a robot to save the city and its peaceful way of life by defeating Doomfist. So far, that's what the fans know, and this story is seemingly fleshing out of these events.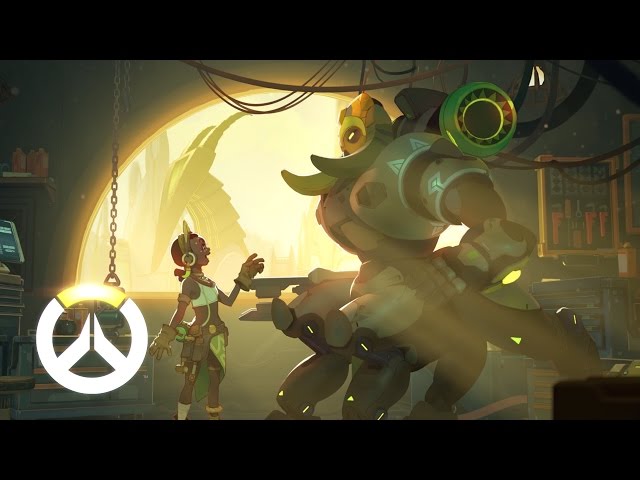 Most intriguing is the mention of Lúcio. Lúcio, a support character who heals people through DJ-ing (good vibes save lives), is mentioned in the book's description. His part in this plot is a mystery, so it might give us a little more than we bargained for when it comes to his relationship with Orisa and Doomfist.
Overwatch in the past has gotten some flack from critics, including myself, for not having a singular black woman in a cast of 31 characters. No Orisa does not count, get over it. Creating this book could bring some more life to the one black girl we have got any personality from in that universe so far. I, for one, am hopeful of its capabilities as the writer of the book is a black woman called Nicky Drayden who happens to have experience writing about African culture already.
Any-who, the book will be an interesting outlet for Blizzard to explore character development. If this succeeds we may well get some new books in the future and perhaps some sneaky details about upcoming heroes.