The PoE 3.10 release date is probably what's on your mind following Grinding Gear Games' latest reveal of its upcoming Delirium expansion. All this new content is all well and fab, but we want to know when we can play the new Path of Exile expansion.
Grinding Gear Games' Chris Wilson hosted a preview before the big reveal explaining the New Zealand-based studio's approach to the new PoE league. He says that Path of Exile is known for action combat with risk/reward trade-offs and deep character customisation. The hope is that PoE Delirium will push things forward on both of these fronts. Although little is known about the story, Wilson says this is by design as the developer wants players to go in fresh on launch day.
Throughout this Path of Exile Delirium roundup, we'll go through the release date, trailer, league gameplay, and other general bits of housekeeping. It's good to get that knowledge laid out, as you'll likely not have time to think about it while you're playing PoE Delirium and facing the manifestation of your inner turmoil.
PoE 3.10 release date
Not long left to wait now, the PoE 3.10 release date is March 13, 2020 on PC. It may be short notice, be we recommend getting those time-off requests in pronto. If you want to know when you can log on, the PoE 3.10 release times are:
20:00 GMT
21:00 CET
15:00 ET
12:00 PT
PoE Delirium trailer
You can get your first look at PoE Delirium down below. You'll find a slight hint of story detail, alongside a look at the new PoE league's gameplay.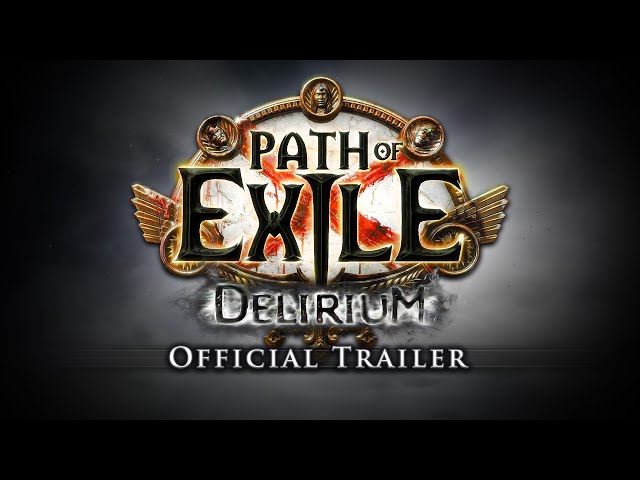 PoE The Mirror of Delirium league
In each area of Wraeclast you'll encounter a Mirror of Delirium. Reflected in it, you'll see an augmented, delirious version of your character. Touch the mirror, and you'll enter a state called, well, delirium, for a while. Visually you'll notice that everything becomes encased in a shadow, meaning that you'll soon run into the gameplay changes, too. Existing monsters in the area get new abilities, while fresh monsters also spawn. The number of monsters isn't consistent, and you'll stumble across more with differing modifiers active as you go deeper. Don't worry, though, as you'll get better loot to compensate.
Delirium affects every encounter in the game. Yup, that means you'll be stumbling across dazed and spooky bosses, too. While they're suped-up, though, their attacks are heavily telegraphed to compensate for how powerful they've become.
More loot: everything we know about the Diablo 4 release date
While discussing PoE's Delirium league, Wilson tells us that the game's most popular leagues in the past feature intense combat – such as Brach or Incursion – and variable risk and reward – like Ambush, Delve, and Legion. As such, Wilson reckons that Delirium's core combat mechanic will feel familiar to Breach, but it'll differ, as you'll feel more in control of the difficulty as it stacks with any content in the game – as opposed to being a self-contained encounter.
Wilson also explains that Delirium has a wide range of difficulties like Delve or Metamorph, whereas Breach maintained the same degree of challenge. Because of that, PoE's new league should encourage players to create strong PoE builds as they continue through the story and get better loot. This is to avoid a situation where players settle for getting to the minimum power level required to get to the endgame.
PoE 3.10 Delirium league items
Completing an encounter gives you the chance to pick up a specific Delirium reward if you kill enough monsters. This could be currency items, map items, or rare armour pieces. Once you earn an item, the progress resets and you can earn another one. Keep in mind, though, that returns do diminish.
Wilson explains that getting a good reward item in an area should encourage you to push yourself to kill more monsters, which is a risk that endangers your character.
While endgame delirium encounters will present a lot of challenges from the off, you can replicate that elsewhere. Wilson tells us that applying Orbs of Delirium to each map increases the density and reward that comes from beating each encounter. Each one of these orbs has a theme, and they influence the prize you'll get for winning the encounter.
Freedom: the best free Steam games you can download
If the map is affected by Orbs of Delirium you'll get Simulacrum Splinters as a reward. You can use Simulacrum to access a new endgame challenge, though the details of that have not been revealed just yet.
PoE Delirium also introduces cluster jewels that dynamically expand your passive skill tree. You can place them in external sockets of the tree to create new passive skill clusters which contain more sockets. Like other Path of Exile items, the jewels are randomly generated and can be re-rolled if they don't suit your build.
You're also getting a new unique jewel that adds a passive called Hollow Palm Technique. Basically, it lets you play as a warrior monk who loves to throw hands.
PoE 3.10 new skills
Path of Exile is shifting its focus towards adding new skills rather than classes. Wilson explains that the developer has ticked off most of the archetypes it hopes to add. As such, Grinding Gear Games is now focusing on adding skills that can be used with any archetype.
Blade Blast – explodes blades created by other skills. This skill is also affected by a change leaving all blades behind, which means other skills can interact with them
Kinetic Bolt – creates a wand attack that is a twisting bolt dealing physical damage. You can combine its support gems like Barrage once you hit higher levels
Wilson also says that there are two other skills and three support gems, but those have yet to be revealed.
PoE 3.10 new items
There are 13 new unique items to hunt for in total, and four of these come together to form an equipment set. We've seen a couple, here's what they do:
Perfidy – is a melee-focused body armour that lets you carry two banners around that charge up as you kill monsters
Algor Mortis – are caster-themed gloves that offer cold and lightning hybrid build opportunities
Sap – is an alternate lightning ailment you can use without giving up Shock
PoE Delirium Conquerors of the Atlas changes
This PoE expansion also gives Conquerors of the Atlas some TLC. You'll notice yellow boxes on the left side of your screen, which are there to show you how many maps have to be completed in each region before a boss spawns.
You'll find other changes, too. Grinding Gear Games has added a Sextant 3:1 trade-up vendor recipe and has made the Temple of Atzoatle from the Incursion league more dense and rewarding.
And there you have it, everything you can expect to get when the PoE Delirium release date hits. If confronting your inner demons isn't your thing, there's plenty of smaller tweaks, too. If you've lapsed a bit and would like to get back into Path of Exile before the launch date, the PoE Conquerors of the Atlas expansion awaits you.