What are the best Payday 2 mods? Games come thick and fast year-upon-year, but their busy modding communities are one of the things that keep them ticking over long after they launch.
Payday 2 is no different and has heaps of mods that add something different, from graphical updates to quirkier additions like the Metal Gear Solid detection sound. Adding mods, for the most part, is quite simple to do in Payday 2. Go to your Payday 2 folder, go to assets, and then to mod_overrides. If the mod_overrides folder isn't there, add it. That should get you where you need to go for most of these mods, but if there are any other steps we'll fill you in.
Now that's out of the way, read on to find out what the best Payday 2 mods are to add some visual flair to your game, or give it a long-overdue facelift. Overkill Software's cooperative first-person shooter may have come out in 2013, but there are still plenty of players modding it to give it a fresh lease on life.
Best Payday 2 mods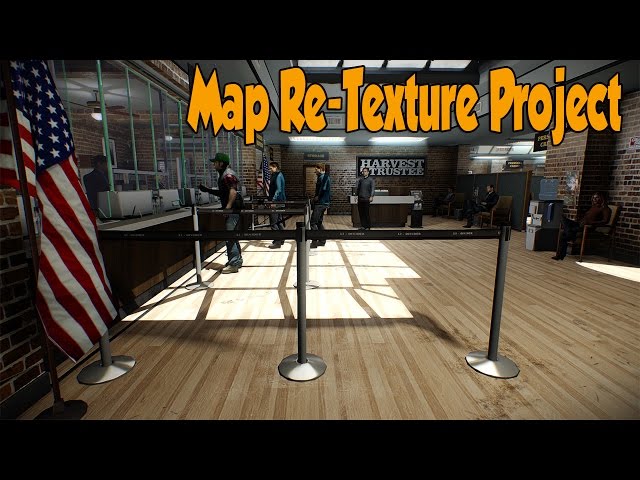 Retexture Project
If you'd like to give Payday 2 a graphical facelift, then you ought to look into this Retexture Project mod. It's mainly in the environments and locations that you'll notice the upgrade, rather than the character models themselves. Still, this is essential if you want a cleaner look to your gameplay experience.
There are a few more steps to downloading and implementing this mod, but the developers of the mod have laid it out pretty clearly.
Face Retexture Project
Like the previous Payday 2 mod, but focuses on faces and the rest of the characters, too. This face retexture mod covers 11 characters in total and features facial retexturing. You can play as an enhanced version of the following guys and gals: Dallas, Houston, Chains, Wolf, Hoxton, Clover, Dragan, Jacket, Bodhi, Sokol, and Wick.
Dozercraft
Have you ever wanted a dose of Minecraft in your Payday 2 experience? Probably not, but you should. Downloading this Dozercraft mod changes the Bulldozers, making them look like Minecraft mobs. The Green Bulldozer looks like the Ghast mob, the Black Bulldozer is Enderman-like, and the Creeper inspires the Skulldozer.
Metal Gear Solid-style Detected sound
This Payday 2 Metal Gear Solid mod is quite simple but very amusing. It replaces the detected sound with the alert sound from Metal Gear Solid: Portable Ops. You will need to use Payday Mod Tool 1.15 to use this mod.
Persona 3 Major Arcana Infamy Cards
Another simple one, this Persona 3 Major Arcana Infamy Cards mod replaces the Infamy Cards in Payday 2 with the Major Arcana cards as they appear in Persona 3. Infamy is a game-extending feature in Payday 2 and enables you to reset your reputation once you hit 100. Resetting allows you to start again with the pre-owned gear.
Better Bots
If you're frustrated with the teammate AI then you may want to look into this Better Bots mod. It introduces a slew of behaviour changes – bots automatically mark Tasers when they're, er, tased, and they'll melee enemies to knock them down, dealing half of their health in damage. If you're not sold yet, bots can dominate, intimidate, and mark NPCS independently – as opposed to sharing a timer for said actions.
You will have to download Payday 2 BLT – a fan made programme that streamlines mod installation – if you want to use this mod, however.
Sonic Mod
Want to go fast? This Sonic mod doesn't actually help with that, but it makes you look like Sonic the Hedgehog at least. Downloading this Sonic mod gives you a two-piece suit to make you look like the blue speedster.
And there you have it, the best Payday 2 mods. Whether you want to enhance your bots or look like Sonic, there's something for everyone. Some of these do require the odd extra step, but they're worth it in the end – promise.