I know we always say next year is going to be 'the big one', but seriously folks, one look at 2019's lineup is enough to get any silicon connoisseur salivating. Even with suitably managed expectations, the next twelve months could finally end the cycle of iterative architectures and see long-standing roadmaps come to fruition.
It looks like it just might. From CES in January onward, we're expecting a veritable feast of gaming laptops, graphics cards, processors, and monitors to grace our gaming setups in 2019. And who knows how many weird and wonderful headsets, keyboards, and mice will be revealed across the next twelve months too.
It's also expected to be the year of chiplets, with both AMD and Intel doubling down on flexible, interconnected technologies. AMD Zen 2 will be the first out the gate, combining 7nm Zen 2 core clusters with a 14nm I/O chip to act as an intermediary. While Intel is expected to bring its own brand of inter-connectivity later in the year with its Foveros 3D stacking technology paired with the elusive 10nm manufacturing node.
Nvidia Max-Q
Nvidia is expected to kick January off by announcing Turing-based mobile and Max-Q GPUs at CES. So far we've only had our hands on the sizeable Nvidia Turing desktop graphics cards, namely the RTX 2080 Ti, RTX 2080, and RTX 2070. But once the confetti has been hoovered up from new years, Nvidia is expected to drop a full line up of mobile SKUs.
The launch should encompass everything from the RTX 2060 up to the RTX 2080, although Nvidia is currently playing this one close to the chest. If leaks ring true, ray tracing might be going mobile in January, with everything from mainstream to high-performance laptops incoming in the new year.
Nvidia RTX 2060
So while mobile gamers are looking pretty set for mainstream RTX 2060 laptops in the new year, traditional desktops are still stuck with the ageing Pascal architecture. That is, unless Nvidia has something planned for the desktop market in January, too.
Despite a looming oversupply of GTX 1060 graphics cards in the channel right now, leaked packaging and word from a trustworthy source indicate Nvidia might be announcing the RTX 2060 in the second week of January. We have our doubts as to whether this card will truly replace the GTX 1060 at its $249 price point, but it will still be lowest point of entry into the Turing ecosystem once it launches.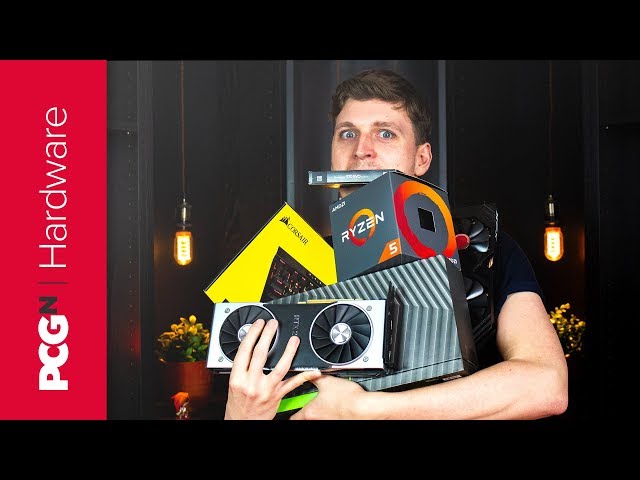 Unless… Nvidia has another GPU raring to go. In an effort to make everyone's lives a little more complex, the green team is rumoured to be prepping a second mainstream GeForce GTX card sometime in the new year.
The proposed GTX 1160 (yes, we're back to the 11-series will-they-won't-they) will ditch the Tensor and RT Cores in favour of good ol' rasterised rendering performance, just like mama used to make.
AMD Zen 2
AMD's Zen 2 design will be the biggest change to AMD's hugely successful Zen architecture since its introduction back in 2017. For starters, it will utilise the 7nm process node from the Taiwan Semiconductor Manufacturing Company.
AMD had previously turned to GlobalFoundries for all its semiconductor manufacturing needs – its 14nm and 12nm process nodes making up Zen, Polaris, and (most) Vega chips. But, just like the USSR dropping out of the space race in the early seventies, GloFo bowed out of advanced process node research in 2018, leaving AMD to seek 7nm production elsewhere.
Time for a change: Upgrade to one of the best CPUs for gaming
The new process node will be rolled out in chipsets: clusters made up of actual processing cores. These will be interconnected with each other and a central 14nm I/O die via AMD's Infinity Fabric. This scalable design approach offers AMD modularity, and therefore tons of flexibility.
While we can only say for sure this is what's going in the server department for Zen 2, AMD's track record would have us believe the consumer desktop parts will follow suit, too. We're hoping to hear more from AMD on this matter at CES when CEO Dr. Lisa Su will be taking the stage for the keynote address.
AMD Ryzen and AMD Ryzen 2 chips first launched in March 2017 and April 2018 respectively, with subsequent chips following later in the year. If AMD sticks to the format, we could see the red carpet roll out for a similar launch window in 2019.
AMD Navi
AMD has been tirelessly rolling out roadmaps all year showing AMD Navi right in the mix for 2019. This GPU architecture was initially expected to utilise a multi-chip module design, yet our chat with David Wang, Senior VP of engineering at AMD, turned up disheartening results to that end.
With an MCM approach largely out of the window, rumours proposing that AMD Navi would actually be a mainstream contender have taken centre stage. This means Navi would be taking on the baton from the Polaris architecture that has served us gamers for over two years now. If that's the case, the top Navi card likely won't launch for anything over $400.
But aside from a launch date within these next twelve months, we don't have all that great of an idea when AMD Navi will get into gamer's rigs. At first it seemed likely that Q1 2019 was our date, but this proposed date has since been contradicted by pessimistic (or maybe realistic) sources touting a launch window around June.
Intel Sunny Cove
For the most part of the year we're not expecting any huge shake-ups to Intel's mainstream CPU stack. Sure, there will likely be further 9th Gen chips to keep the recently launched i9 9900K et al company, but aside from that, Chipzilla is heads down on the next architecture and process.
But the launch of the next major microarchitecture, Intel Sunny Cove, is slotted in tentatively before the end of 2019. Okay, I'll admit that is a whole twelve months away and we have been here before with the 10nm process, but it really looks like Intel intends on sticking with this one.
The sales pitch for Sunny Cove is about as boilerplate as you can get in the CPU world. It is "designed to increase performance per clock and power efficiency for general purpose computing tasks".
Despite its generic blurb, Sunny Cove is set to be the biggest change to the Core processor DNA for years. It is designed with enhancements catered to boosting AI, cryptographic, and parallel workload performance – all the jobs a GPU would usually be best suited.
This in part helped by Intel's new deeper, wider, and smarter approach. Playing to Intel's single-core strengths, instructions per clock (IPC) will be increased considerably thanks to the sleek architecture. Implementing measures to decrease latency, increase buffer and cache sizes, and boost compression and decompression performance.
The iGPU will receive one of the biggest changes to its DNA since Skylake's inception. Rather than a measly 24 Execution Units, the new Gen11 graphics chip will offer a mammoth 64 EUs, significantly boosting graphical performance.
Sunny Cove will eventually give way to Willow Cove, which will then lead on to Golden Cove way off in 2021.
Intel Foveros
Now this one technology has a wider brief than just us gamers. Intel Foveros is a new 3D packaging technology that enables logic-on-logic integration, or silicon Jenga as I like to refer to it.
Using this stacking technology, Intel can essentially stack CPUs, GPUs, AI processors, I/O, and memory into one heterogeneous chip. This allows for far more flexibility in both manufacturing and performance, blending process nodes and componentry to suit different system needs and power envelopes.
The first chips built using Foveros technology will launch in late 2019, blending a 10nm compute chiplet with a low-power, Atom-based 22nm base die. The expectation is for it to be designed for the thin-and-light mobile market, offering one Sunny Cove core sitting atop four 22nm Atom cores. When it needs more serious compute power it will spin up Sunny Cove and when it just needs a little light processing it will stick with the low-power Atom cores.
What we hope to see in 2019
These are just a few of the biggest and baddest known quantities expected in 2019. We tried to consult the oracles at Delphi for knowledge of what other hidden gizmos would be on the agenda for next year, but our efforts were unfortunately fruitless.
Never ones to be deterred, here are a few slow-moving technologies we're hoping might finally flourish in 2019.
One such technology is HDR: the bane of PC gaming. While console gamers are happily gaming with high dynamic range as we speak, we're still stuck with either the standard range or a half-and-half OS implementation. Windows HDR, in-game HDR, PC monitor HDR… it's all still developing at a snail's pace.
We're certainly seeing more monitors support the high contrast tech – even if only scraping by the bare minimum of the DisplayHDR specification. However, the PC standard is a convoluted mess right now, and we're not particularly confident that anyone has an idea of where to go next to implement it further into the PC ecosystem.
HDR or no: The best gaming monitors are just one click away
HDR aside, virtual reality is still on our wishlist heading into 2019. While the first batch of capable headsets sprinted out of the gate a few years back, this last year has gone by without much for PC VR enthusiasts. 2018 has been dominated by standalone headsets and market growth.
Ever since Mark Zuckerberg crushed our dreams of imminent new PC VR devices, our hopes for a renewed VR scene have been dwindling. But with the VirtualLink now available on Nvidia's RTX 20-series, and AMD expected to follow a similar path, we're hoping to see at least some progress be made in the next twelve months. Even if the result is simply shaving off a few cables from the current VR lineup.
And lastly, while the promise of QLC drives has now been realised, there's still a ways to go before these are the value proposition for gamers that we one day hope they will be.
Once yields settle at a healthy minimum, and memory controller tech is optimised for QLC rather than TLC, we're hoping to see these high-capacity drives mature in price, performance, and reliability. Fingers crossed we see a little of that in 2019.