PCIe 4.0, or Peripheral Component Interconnect Express specification 4.0 as it's officially known, was first introduced into the desktop market with AMD Ryzen 3000 CPUs. But it's also looking like a sure-fire bet for Sony's PlayStation 5 SSD, too. So in the wake of this technical advancement, we here at PCGamesN started thinking: does PCIe 4.0 make any difference to game load times?
The PCIe standard has existed in various forms for over a decade and a half, helping PC builders make quick work of add-in cards of all shapes and sizes. For the better part of the 2010s, most client computers have been reliant on the PCIe 3.0 standard capable of 8GT/s. NVMe PCIe SSDs using this standard have since started to inch SATA-powered SSDs and HDDS out of the market, and are on track to becoming ubiquitous by the 2020s.
But with AMD Ryzen 3000 and the X570 chipset combo, AMD is spearheading the introduction of PCIe 4.0, capable of 16GT/s, for the likes of you and me. Since then, partners have been drip feeding NVMe drives fitted with controllers and NAND capable of delivering its promised bandwidth.
With Sony fitting the PlayStation 5 with an SSD offering "raw bandwidth higher than any SSD available for PCs," it looks like the PCIe 4.0 standard is set for console evangilisation for next-gen mainstream gaming, too.
And if you're wondering if you could build a PS5-level gaming PC for the same $499 price tag expected at launch, we've got just the article for you.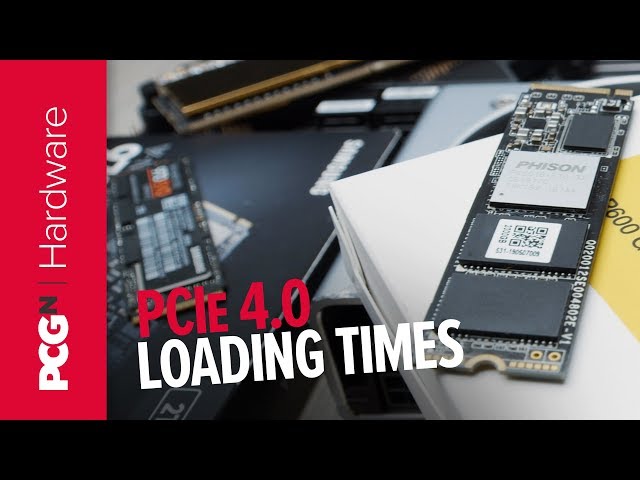 Is a PCIe 4.0 SSD better for gaming?
We've set up our test bench with all the necessary gubbins from AMD that are fit for PCIe 4.0. First up, the MSI MEG X570 ACE, one of the most capable X570 motherboards going, and introduced alongside today's CPU special: the AMD Ryzen 7 3700X. To round off our mighty test rig we've got the Nvidia RTX 2080 Ti, 16GB of G Skill Trident Z Royal memory at 3,600MHz, and a Corsair H100i V2.
For the purposes of this test we'll be using the Corsair Force MP600 Gen4 PCIe 4.0 M.2 SSD and the Samsung 970 Evo M.2 SSD. Both drives are 2TB, with the 970 Evo representing one of the best PCIe 3.0 drives going for gamers and the Corsair bringing Phison's initial PCIe 4.0 controller to the scene.
The MP600 theoretically maxes out around 4,950MB/s sequential read and 4,250MB/s sequential write. Meanwhile the 970 Evo is rated to 3,500 MB/s sequential read and 2,500MB/s sequential write.
| | | |
| --- | --- | --- |
| | Corsair Force MP600 | Samsung 970 Evo |
| Capacity | 2TB | 2TB |
| Controller | Phison PS5016-E16 | Samsung Phoenix |
| NAND Flash | TLC 3D NAND | Samsung V-NAND 3-bit MLC |
| Rated seq. read | 4,950MB/s | 3,500 MB/s |
| Rated seq. write | 4,250MB/s | 2,500MB/s |
| Price | $450 (£475) | $479 (£444) |
As for benchmarks, we've installed a couple of major triple-A games across both SSDs. We picked games that a user is likely to play consistently over the span of many months, such as Destiny 2 and Assassin's Creed Odyssey, which could see load times amount to a considerable waste of time, and one which is famed for its loading screens: Anthem.
For the record our system is running on the beta chipset driver released by AMD to fix the Destiny 2 no boot issue present at Ryzen 3000's launch. This will be addressed in a full AGESA update (AGESA 1003ABB) at a later date, but for the time being this was the only option to get ourselves in the game.
Across three runs in our first Destiny 2 test, the Samsung 970 Evo took 22.61 seconds on average to reach the character screen. The Corsair MP600 on the other hand took 22.63 to achieve the same result. Ostensibly both SSDs were evenly matched here and well-within the variance we might expect from me, a 27-year-old human, pressing stop on a timer.
Our second Destiny 2 test measures the time it takes for the game to load up one environment from another. We initially ran this test from the Tower, but the time it takes to find an instance to load into can vary massively between runs. But hey, at least in this test we see the MP600 take the lead ever so slightly at 30.89 seconds to the 970 Evo's 31.67 seconds.
In Assassin's Creed Odyssey we also saw the PCIe 4.0 drive take the lead, but again, by a tiny margin. Our first test was from game load to when press any key appears on the title screen. In this test we saw the MP600 scoot in just a couple of tenths of a second before the 970 Evo at 54.94 to 55.10. Our second test was to load into the game's prescribed benchmark. The MP600 manages to do this in 19.67 seconds, while the 970 Evo is a touch slower at 20.20 seconds.
Onto Anthem and our first test is from the title screen to Fort Tarsis on a fresh boot. The 970 Evo managed to get this done in 22.20 seconds, while the MP600 was slower at 23.54 seconds. Our second test was to jump into the Academy Ruins from Fort Tarsis. In this the MP600 system manages to get the job done in 48.87 seconds, while the 970 Evo does so in 49.60 seconds.
Does PCIe 4.0 speed up game loading times?
And so we find that there's very little time to be saved in loading screens with a PCIe 4.0 SSD. But that's far from the end of the story. The Corsair MP600 vastly outperforms the Samsung when it comes to synthetic measures of performance.
In AS SSD and ATTO, two synthetic benchmarking tools for raw SSD speed, we see the MP600 pushing upward of 4,000MB/s across the board. It's not quite hitting its rated speeds in either test for us, but write speeds of 3,900MB/s are mighty impressive. That doesn't exactly count for much in the real world, but it just shows that there is a tangible benefit to the new spec and controller – it's just harnessing that in-game that's the trouble.
Games just aren't built to make the most of PCIe 4.0 bandwidth yet. After all, these speedy drives aren't exactly commonplace in gamers' rigs. Graphics cards similarly don't get close to maxing out that bandwidth outside of compute tasks. Yet with the next-gen PlayStation and Project Scarlett bringing SSDs to the mainstream for console game development, and the abundance of cheap SSDs in the PC market growing by the day, we may soon see a drastic reduction in loading times as faster standards become the norm for the industry.
And there's another potential positive on the way for PCIe 4.0 platforms. No, it's not the PCIe 5.0 standard, although that will once again bump twofold. It's better PCIe 4.0 controllers.
So far only Phison has managed to get a PCIe 4.0 controller out to market: the Phison PS5016-E16. Even Phison admits that's far from the best kit it can produce, and plans on releasing a 6,500MB/s controller in Q1, 2020. Not to mention we'll see every other manufacturer in the game, including SSD leaders Samsung, throwing their hat in the ring in the meantime.
And last but not least, the remaining components in your rig also have a large impact on loading times. An upgrade from an entry-level chip to an enthusiast-grade processor or GPU will impact how long you're waiting around for, well, your PC to do anything.