It's been well over three years since Plague Inc: Evolved launched on PC, although Evolved first appeared on Steam Early Access in 2014 – and a more basic version was originally out for mobile way back in 2012. Consequently it's well past time for a sequel, and now fans are finally getting one – although it's a little different.
Instead of focusing on the spread of diseases across the planet, with its latest title Rebel Inc: Escalation developer Ndemic Creations is focusing on a specific country – and is dealing with the threat of terrorism and insurgency rather than illness.
Players will be tasked with stabilising a war-torn country, balancing military requirements against civilian needs – and all while trying not to let the insurgency from seizing power. Ndemic spells out that it's inspired by the tense political situation in Afghanistan, and contains real-world development initiatives and proper counter-insurgency tactics. The game was featured at an international peace conference – so much like Plague Inc, it's already making an impression outside gaming circles.
Also similar to Plague Inc is the route that Rebel Inc is taking to release. The basic version was released on mobile in 2018, and to launch the more in-depth and expanded version – Rebel Inc: Escalation – Ndemic is going down the Steam Early Access route first.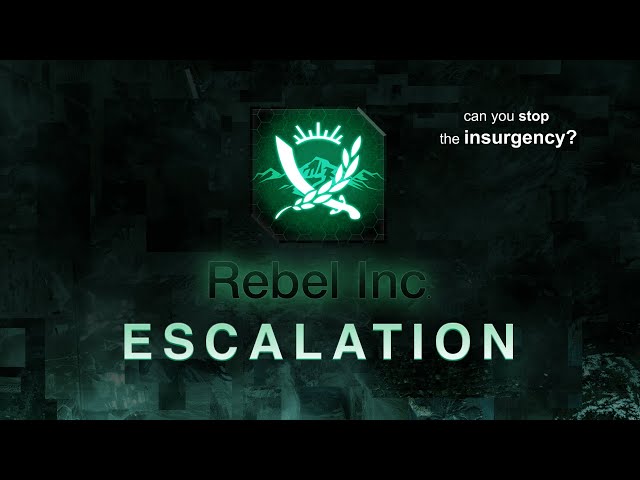 You can pick up the early access version of Rebel Inc: Escalation on Steam for $13.49/£11.99, although it's currently 10% off for the game's launch week. This version is reportedly "stable, polished and has been redeveloped from scratch for PC" but "is not feature-complete" at this time – although it already has five regions and six totally different governors for players to try out.
Planned features on the way include co-op and multiplayer, a full campaign mode, a custom scenario editor, and a "mega-brutal difficulty" mode. All of these will be available as a free update to the early access version. The team expects the game to leave early access in 2020, "but this might change if someone suggests something particularly cool!"