Though the newest installment of Plants vs. Zombies: Battle for Neighborville had its trailer and map leaked last month, the official reveal came today with a new gameplay trailer. It confirms some of what we already knew, but it also showcases a slew of exciting and frankly barmy new features.
These include team-play classes, which allow you to combine with other players into wacky hybrids of destruction, a bit like a Power Rangers Megazord. Whether that's the plant combo, Oak and Acorn, or the Zombie cadets' flying Space Station, each is a terror on the battlefield. But be wary — if one of you goes down, you all go down. New characters are also introduced to the roster, each with their own unique abilities. Snapdragon can use homing fireballs, while Nightcap can use a deadly 'Fung-fu' finisher.
Battle for Neighborville will also feature split-screen co-op in every mode, which is a nice old school touch allowing you to create those new team-play classes with your friends. And you'll have plenty of places to try them out — The Funder Dome is an intense three team battle arena, or you can go even bigger with huge 24-player matches.
It also looks like the leaked map was correct, so on top of all the new features, we'll be getting a whole range of locations for all-out foliage vs. living dead destruction. These include the wild and wacky carnival of Giddy Park, or any of the new free roam areas, where you can quest and discover loot.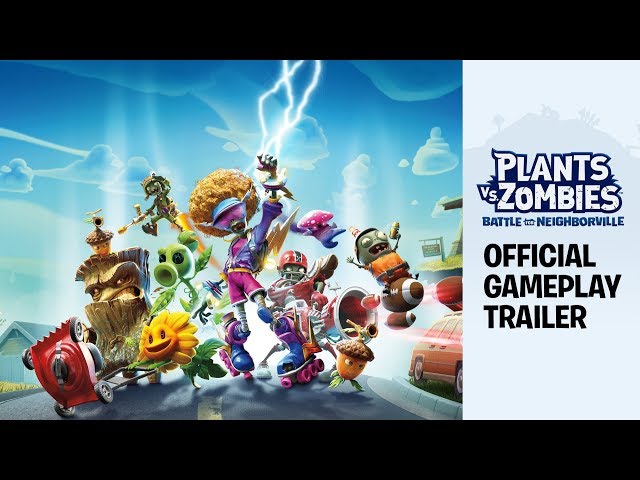 And of course, none of this would be complete without a dose of randomness in the form of pie-eating contests, gnomish temples, insecure washing machines… the list goes on.
A spiritual successor to the Garden Warfare games – which were a bit like loot shooters in the Destiny mould, only with more of a focus on Plants vs. Zombies patented horde-based gameplay and more child-friendly – Battle for Neighborville is evidently making a few radical changes. One thing's for sure, though – it won't be a dull affair.