Prison Architect is getting brand new DLC in 2020. In the meantime, its Psych Ward expansion is coming to PC with the Warden's Edition. This will be the game's first expansion on PC since publisher Paradox Interactive bought it from indie developer Introversion in January this year. The announcement was made moments ago at the opening stream for PDX Con 2019.
Psych Ward has been available on consoles since 2017, but Warden's Edition includes new content, such as an additional warden, padded solitary cells, padded floors, new psychiatrist office upgrades, orderly staff, and more. It also arrives alongside a free update for the base game.
Psych Ward's headline feature is criminally insane inmates. These are more volatile than the general population and require special treatment to manage, including padded cells and treatment by psychologists, psychiatrists, and orderlies – who can sedate or straitjacket your prisoners should the other two specialists fail in their care. You'll need to build offices for therapists to conduct counselling sessions, schedule inmates' treatment therein, and upgrade said offices with leather sofas, medicine cabinets, Rorschach tests, and more.
General population can also be driven criminally insane if subjected to excessive suppression or punishment, so be sure to run a humane prison.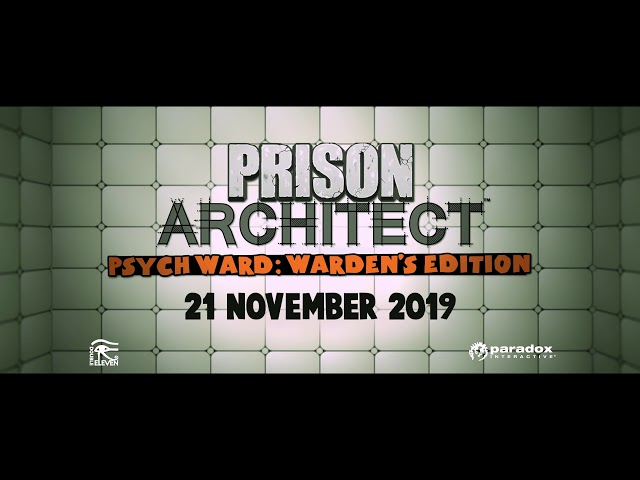 The new features mean new contraband for your prisoners to steal – or you, in Escape Mode – including adrenaline shots, fountain pens (i.e., shanks), and gold pocket watches. As for that 2020 expansion, Paradox is keeping its cards close to its chest for now, but a quick teaser about the game's future can be seen here:
Fans of the series needn't worry. Paradox teased new entries in the 'Architect' IP back when it bought the game in January, and in June, announced that Prison Architect had been downloaded by more than four million players across PC, console, and mobile since release.
Psych Ward: Warden's Edition will release on PC on November 21 and set you back $5.99 (£4.79).