Prison Architect's Psych Ward DLC, exclusive to consoles since its release over two years ago, is finally coming to PC in a new edition with "at least 50% extra content," according to design manager Gareth Wright. It's due on Steam on November 21.
It's also announced in a new trailer which shows a prisoner struggling against a straitjacket as whimsical music plays. The DLC's headline feature is a new class of inmate called the 'criminally insane', who are more volatile than others and require special treatment. Said treatment includes padded cells, forcible sedation by orderlies, and straitjacketing, some of which is still current practice, some of which (mainly the straitjacket) is outdated, all of which is rather clichéd. It doesn't take an excess of empathy to imagine how those living with mental health conditions might find this depiction a little insensitive or tired.
"It matches the tone of Prison Architect as it's set already. It tackles these real-life experiences, but through the prism of how the media and pop culture treats prisons and incarceration," player engagement manager Natalie Wicks tells us at PDX Con. "Our psychiatrists all look like Sigmund Freud, and we've got straitjackets, so it's that prison fiction element."
Certainly no one would suggest we've not seen these tropes before, but the devs are keen to emphasise that the game is more nuanced and humane in its representation of the 'criminally insane' than first appearances might suggest.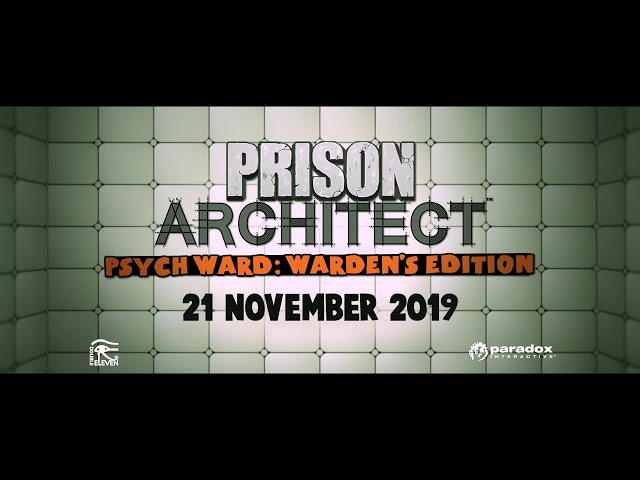 "If you strip the presentation away there's this very real loop: people have mental health problems, and if you treat human beings like human beings there won't be any issues, but if you're really cruel and unkind to people, then there's going to be some difficult times." This is a reference to the fact that even regular inmates can become criminally insane if repeatedly subjected to cruel treatment. "We think it hits that fine line between taking things very lightly and taking them very seriously at the same time," Wicks says – ultimately it's left to the player to decide how to treat criminally insane patients, and to deal with the consequences.
Our conversation at PDX Con wanders, but soon returns to the variety and complexity of the prisoners' personalities. "You could put a hole in the wall but you won't see a flood of inmates leaving. Certain inmates are a lot more stoical," Wright says. "We're bringing some of that with Psych Ward with some additional systems. A good example is claustrophobia – a prisoner with that trait will be more susceptible to a breakout."
So the suggestion is that beneath the clichés and the whimsy, criminally insane patients and their needs are treated with a seriousness and intricacy that feels more appropriate to reality – and indeed has underpinned Prison Architect's approach to its population from the beginning. I ask if the game has a goal to help players empathise with the people we choose to lock away.
"The original developers, Chris [Delay] and Mark [Morris], that's something they definitely had in mind," Wicks says. "You might just be observing your prison, and you'll notice this inmate – who you've had a really hard time handling – and a little popup comes over their head to show it's because they're missing their family. They're just missing home. And I think that does break that fourth wall, and it's like: 'oh no, I've been housing these amazing little people in a horrible battery farm, and it is actually having an effect on them'."
I like the Double Eleven devs – they're clearly decent people. I also fully believe that Prison Architect creates moments where players reflect on what incarceration is actually like for those we condemn to it, and see no reason in theory why that can't extend to those with mental health conditions. But I wasn't the only one to get a bit of a 'yikes' vibe from certain aspects of Psych Ward.
Hopefully it's just down to the presentation; Wright acknowledges that "we were always a bit cautious when developing this content on console as well," but points out that it's been well-received by the community and highly requested among the game's PC audience. If players are concerned, Wicks says "we're certainly open to that conversation."
Correction: an earlier version of this article referred to the Prison Architect developer as Double Fine, not Double Eleven. We apologise for the error.