The next operation for Tom Clancy's competitive FPS has been officially unveiled – ready yourself for Rainbow Six Siege: Grim Sky. Ubisoft have fully revealed the new Rainbow Six Siege season at the Six Major Paris, giving us a look at both new operators – Clash and Maverick – the new Hereford rework, and heaps of other features such as hatch reworks, a Consulate map buff, and much, much more.
We've also played with both of the new operators in the reworked Hereford so we can give you the rundown of their gadgets, weapons, and how best to use each one. That's not all either as we also have videos detailing what the new ops do as well as gameplay so you can see their devastating new abilities in action
So, in order to prep you for the new meta, we've prepared this guide to Rainbow Six Siege: Operation Grim Sky, including everything from the release date to what you should expect from the new Hereford layout. Here's everything we know about Grim Sky.
Rainbow Six Siege Grim Sky release date
Good news for PC players, Operation Grim Sky is out now on Ubisoft's Technical Test Servers, so if you own Rainbow Six Siege you can install it and start playing right now.
As for the full Grim Sky release date, the new season officially launches on September 4, 2018. This was confirmed by the Rainbow Six Siege Twitter account – we're still waiting on exact Grim Sky release times.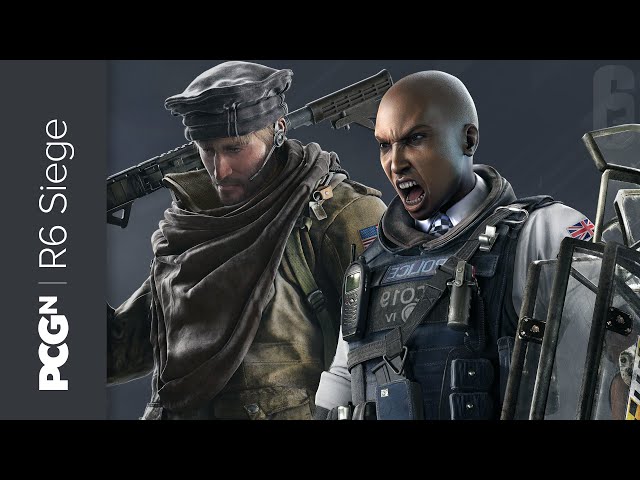 Rainbow Six Siege Grim Sky operators
Grim Sky adds two new operators to Rainbow Six Siege, an attacker from America's Delta Force, and a defender from Britain's Scotland Yard – together they form Urban Tactical Response Team, codenamed Grim Sky (or GSUTR).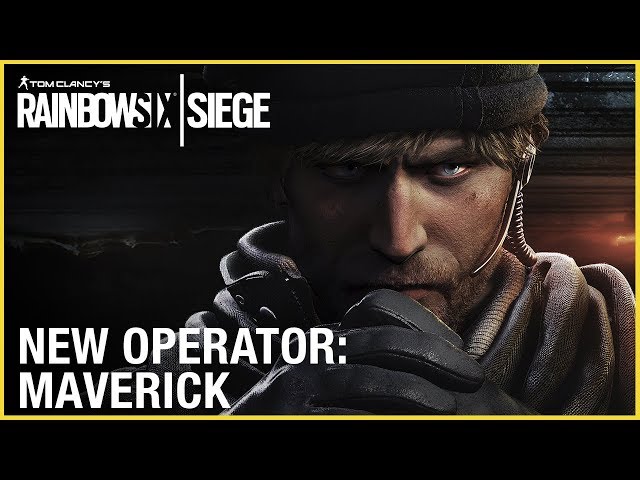 Grim Sky attacker – Maverick
Ubisoft have revealed the new Grim Sky attacker to be Maverick, a Delta Force operator who uses a blow torch to carve lines of sight in reinforced walls. This device works quietly, making it possible to catch defenders off guard for easy kills.
Maverick is a three-speed attacker, too, so he can rotate between reinforced walls very quickly in order to open up the objective site and isolate anchoring defenders. His loadout includes the AR-15.50, a powerful DMR, and the M4, which is very similar to Ash's R4-C. Maverick can also carry smoke grenades, which can be used to cover you as you go to work with with the blowtorch.
Naturally, Glaz is a perfect partner for Maverick, as his thermal scope and smoke grenades are great for picking off defenders through the murder holes that Maverick can create.
Here's the official description of Maverick. "An American Attacker, a specialist with a remarkably sharp mind when it comes to tactical operations. He has seen the worst in Kabul. Despite it all, he fell in love with the city. Legendary for his surgical precision, he remains an enigma within Rainbow Six."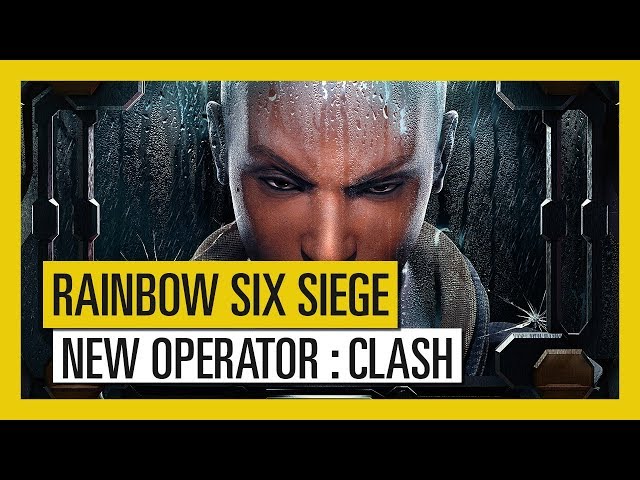 Grim Sky defender – Clash
Ubisoft describes the new Grim Sky defender as "a tough police officer who's an expert on mob behaviour and snatch-squad tactics. She knows she belongs on the front line and she won't tolerate any nonsense."
She's the first defender to get a shield, which opens up plenty of new tactics to the defending team. Her gadget is the CCE Shield and has two tasers attached to it, which damage and slow enemies. Clash's shield is also fully extended much like Montagne's, making her a formidable prospect for attackers. However, Clash can't shoot, melee, or vault while she is holding the shield, so you have to switch out to either her machine pistol or handgun of you want to deal out any real damage. To make sure she can't just sit in a corner all match, Clash can also be staggered while she's holding her shield.
While Clash is a three-armour operator with a shield, he best role is as a roamer, or more specifically, as roam support. Use her to lure enemies into danger areas and traps, or to gather information about where the enemy team is attacking from.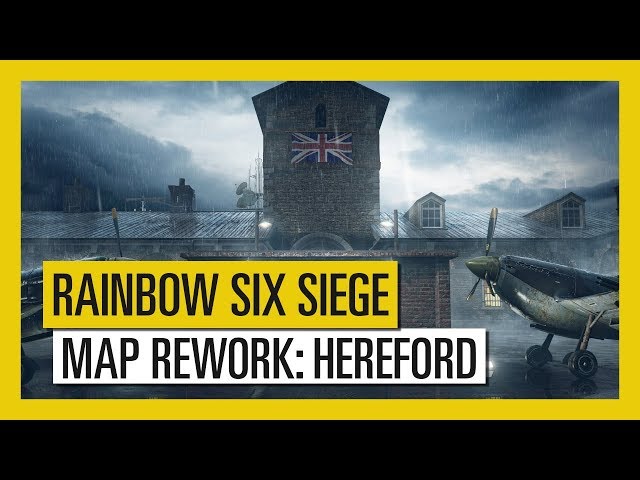 Hereford map rework
Operation Grim Sky will also launch with an entirely reworked version of Hereford, the SAS training ground map that's been one of the weakest in the game since launch. Last season, Ubisoft released concept art for how the new Hereford would look, but now we've played it we can you tell you a bit more about the upcoming map rework.
The first thing to note is the fog and rain – it doesn't have any effect on gameplay as most of the action in Siege takes place indoors, but it's moody and atmospheric. A few changes to the outside allow attackers a couple of valuable sightlines into the building from outside, with Shooting Range spawn now appearing to offer full view of the the North face of the building. The observation ramp is a lot closer, too, so it won't just be operators like Glaz who can provide overwatch. The West side of the building remains virtually untouched from the outside, with the garage exactly where it was previously, breachable surfaces and all. The East side Parking spawn has also been given a stunning facelift, with WWII aircraft on display and a much more formidable-looking barracks section.
Overall, there are far, far fewer windows, which will mean defenders can breathe easy knowing they're unlikely to get domed while rotating back to site. To make up for it, there are a couple of extra balconies and staircases on the outside of the building for attackers to breach through.
Inside you'll probably feel very lost. There are now two staircases instead of one, which means defenders can properly roam between floors and attackers are less likely to get stalled in these chokepoints. The top floor and basement are the biggest departures from the original map, with the top floor now holding a tractor in one massive, open room, while the basement has been littered with small rooms, tight angles, and entrances. The top floor is absolutely chaotic to hold as a defender, owing to the lack of cover and number of windows looking in, but attackers can easily be punished run-outs from the floor below. The basement will require a really strong hold from the floor above – the prevalence of destructible floors are the key to winning this site.
Rainbow Six Siege Grim Sky changes
Rainbow Six Siege Grim Sky will also launch with a batch of quality of life improvements, a map buff to Consulate and an Elite skin for Frost. Ubisoft skimmed through these during the Grim Sky reveal panel at the Six Major Paris, so here are all the other Grim Sky changes in case you missed them.
Consulate map buff
A surprise map buff has been made to one of the most popular and competitive Rainbow Six Siege maps, Consulate. The changes themselves are incredibly slight: a few exterior walls have been moved about to prevent spawn peeking, a fourth bomb site has been added in Tellers/Archives, and the map been prettied up with some new textures. The fourth bomb site is an interesting addition, as Archives is traditionally the easiest site to hold on Secure Area, having to hold both Archives and the much trickier Tellers should make this a very competitive bomb site.
Frost Elite skin
Last season gave us a rather handsome Thatcher Elite skin so we sort of expected to see a new Elite skins announcement for Grim Sky, but few expected one as cool as the Frost Elite skin. The Elite casts Frost as a huntress, with dreadlocks, thick coat, and wooden skins for all of her weapons – it also features a new trap skin, which is more realistic than her standard Welcome Mats, but has a couple of bright red dots on it to ensure it cannot be considered pay-to-win.
Hatch rework
While Rainbow Six Siege's destruction has always been remarkably realistic, its hatches have always been very binary: they're either there, or they're destroyed. Year 3 Season 3 will implement systematic destruction for hatches that means it will take more than a single X-KAIROS pellet to completely destroy a reinforced hatch. While this doesn't sound like a big change it will massively affect the gadget economy in the game, putting added pressure on operators like Hibana to put their gadgets to good use, and providing new means for defenders to deny vertical breaches.
Weapon sights misalignment
No precise details have been given, but Ubisoft say that Grim Sky will finally add a fix for one of the biggest issues pro players had with the game. "Following a lengthy test phase, we're bringing forth much-anticipated modifications to address the weapon sights misalignment. But that's not all! In our constant pursuit to improve the game and the player experience, an adjustment with the Operator Idle Pick as well as dynamic resolution scaling for consoles are also on their way."
Idle operator picks
News of an Operator Idle Pick system will make Siege that little bit easier for more casual players who dash off away from their keyboards between rounds and routinely forget to pick an operator. The system is very simple as doesn't require any kind of setup – if you don't pick an operator before the round starts you be randomly assigned one of the remaining characters.