Capitão is finally getting an Elite skin of his own, and Ubisoft has clearly enjoyed drawing on the attacker's Brazilian heritage with a dazzling display of ball control to cap off (geddit?) an MVP performance.
The rest of the Responsa outfit appears to hark back to the heyday of Pelé, with a beautifully retro baseball tee and some gold-rimmed aviators for good measure. Like all Elite skins, the Repsona Elite for Capitão comes with a victory animation, which is the keepie uppie routine, a fresh skin for his Tactical Crossbow, bespoke skins for his Para-308, M249, and PRB92, as well as the Elite Capitão Chibi charm for your weapons.
The reveal of the Capitão Elite skin comes as a complete surprise, as many fans were expecting to see the completely leaked Ela Elite skin or even a recently leaked Caveira Elite skin revealed during the panel at the Rainbow Six Pro League Season X Finals in Tokoname, Japan. Good to see Ubisoft still has the odd surprise up their sleeve as we approach Year 5.
Capitão Elite skin release date
The Rainbow Six Siege Capitão Elite skin release date is set for December 2, 2019. Ubisoft has said this Elite will be available with the Shifting Tides release date, which should fall three weeks after the TTS goes live.
Take a look at the full set and MVP animation in the video below.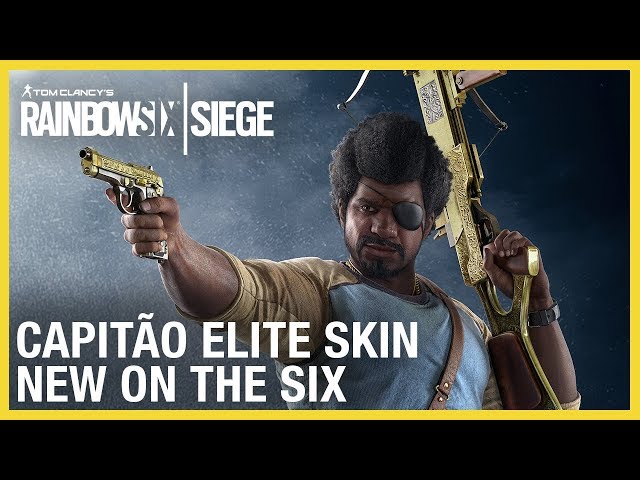 How much does the Capitão Elite skin cost?
If you've not purchased an Elite before then you can expect to be paying 1800 R6 Credits for the Responsa Elite when it arrives. However, if you've got the Year 4 Pass then this is reduced to 1,620 R6 Credits.
The cheapest way to get this is to buy a Bronze and Silver pack of R6 Credits, which is £11.98, or you can buy a Gold pack for £15.99 and have some spare for your next purchase.