With the reveal of the Rainbow Six Siege Year 4 roadmap just around the corner, fans of the tactical shooter are eagerly waiting to find out what countries will be represented by operator characters in 2019. With the recent release of the Hammer and Scalpel Siege cinematic, the Rainbow6 subreddit has gone to work scouring through the trailer for details and clues for upcoming content. One detail stands out among the myriad easter eggs, however, and the subreddit is pretty sure it means a Danish CTU is coming to Rainbow Six Siege.
During a scene in the cinematic in which Dokkaebi and Thatcher are having a dispute about tactics you can clearly see a Danish flag in the background of the shot. The reason it's caught the fascination of fans, however, is that the Danish Flag is draped over a locker in Team Rainbow's Hereford base of operations.
The locker with the Danish flag over it is sat directly beneath a banner with the attacking team's logo on it, suggesting that this is the armory locker of a potential Danish attacker. If you look on the left side of the same screen you'll spot an empty armory cage with a old longbow and quiver outside it, which may allude to the gadget, kit, or heritage of a second new Rainbow Six Siege operator.
The details are quite easy to spot and given the quality of the CGI it seems unlikely that these are inconsequential.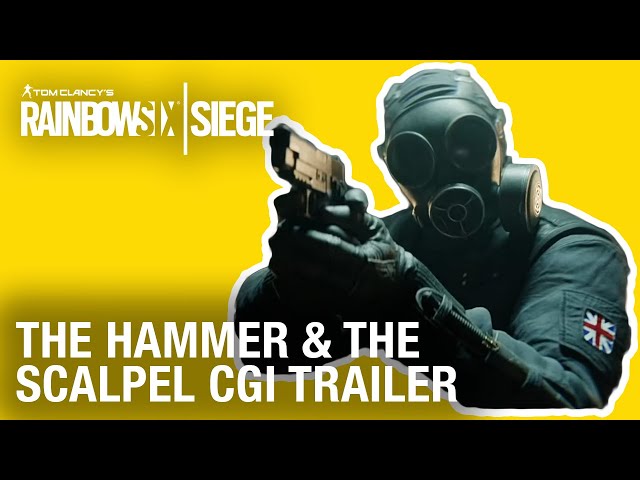 Either way, we'll find out if the Rainbow Six Siege community is right or wrong about the flag tomorrow when the Year 4 roadmap is revealed ahead of the Six Invitational 2019 Grand Final.
Related: Here's the Rainbow Six Siege Burnt Horizon release date
In the meantime, you can enjoy the Hammer and Scalpel cinematic short above, and in particular Dokkaebi flipping the bird at Thatcher. You can tune in to watch the roadmap reveal at 12:00 EST on the Rainbow 6 Twitch or Rainbow Six Esports YouTube channel.