Rainbow Six Siege fans must be feeling spoiled lately with the reveal of Elite skins for Smoke and Mira during the Six Major 2019, but now it looks like Ela is getting an Elite skin, too. The new Elite skin for Ela has been discovered in the game files by multiple players after downloading the test server for Operation Ember Rise, and it hasn't taken long for players to equip the skin in-game.
Judging by the leaked gameplay of the Ela Elite skin, Ubisoft is once again leaning into a punk, anarchist aesthetic, with Ela sporting a leather jacket covered in patches, random lengths of chain, and strips of paint. Additionally, her standard blue-green hair colour has been replaced with peroxide blonde, and rather than military boots Ela's Elite skin variant can be seen sporting an oddly coloured pair of Converse-style high top trainers – great for skulking around as a roamer.
As with all Elite skins in Rainbow Six Siege, the Ela Elite comes with a weapon skin that closely resembles the rainbow paint scheme from her jacket. The Elite appears to be named Huk Sztuk, which roughly translates to "bang of fine arts" – take all of this information together and it appears this Elite is based on Ela's backstory as a Fine Arts student in Berlin.
Rainbow Six Siege Ela Elite skin release date
When does the Ela Elite skin come out? Unfortunately, there's no official release date for the Ela Elite skin. Based on how long it took to see Smoke's Elite skin go on sale after being leaked, we could be waiting a while to see the Huk Sztuk Elite skin in the Rainbow Six Siege store.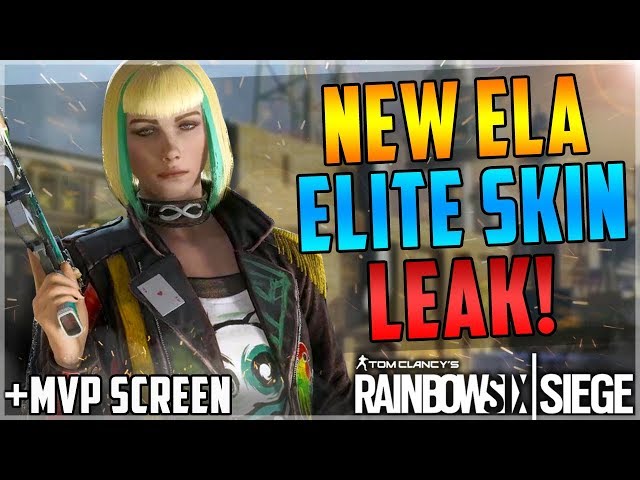 Take a look at the video above to see the skin, plus the MvP animation in which Ela paints the screen blue.
Elite skins typically cost 1,800 R6 Credits, or 1,620 R6 Credits if you have the Year 4 Pass discount. So keep yours saved up if this is the next Elite skin you're planning on buying.