A brand-new limited-time mode drops into Rainbow Six Siege today, with a Red Dead Redemption 2-meets-Peaky-Blinders kind of a twist. The mode, called Grand Larceny, adds a new 5v5 game mode to the FPS game's old Hereford map and pits the best Rainbow Six Siege Operators, shotgun in-hand and kitted out with new skins, against eachother as rival gangs – all with the aim of scooping or defending precious safeboxes.
"Two groups come to a head in a familiar place," Ubisoft posts. "The gunshots ring through the hallways of the Headquarters as they clash. There's valuable loot on the line, and these Operators will stop at nothing to claim them". The rules of the game are simple: the Stolen Goods game mode scatters safeboxes about the map – attackers must try to grab as many of these as possible and take out defenders, who in turn need to protect their goods.
There's also a special twist this time – "you'll find that a lot of flooring no longer leaves metal beams after being destroyed. So, get creative with those shotguns and go all out!" Looks like the map's getting a lot more destructible for the event.
Only a certain set of the Rainbow Six Siege Op. roster will be available for the event, and most will only have a main shotgun to hand.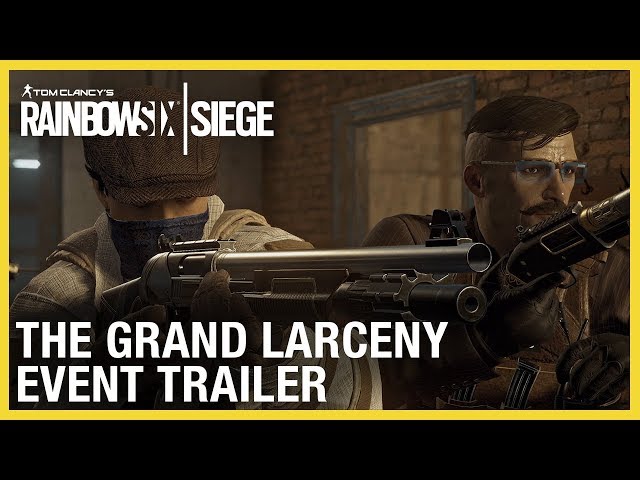 The Siege Grand Larceny event also brings a collection of 31 items, with exclusive customisation for Amaru, Fuze, Gridlock, Hibana, Maverick, Echo, Maestro, Kaid, Wamai, and Warden, the post announces. "These century-old stylings are the same you'll find in-game by picking these Operators to play the event," it adds.
You can grab the Grand Larceny pack by completing special challenges in the event or for 300 R6 Credits or 12500 Renown. A Roaring Riches bundle, which includes the "Deco Artistry signature weapon skin and the Crafted Six charm" is also on offer using either of those currencies.
The Rainbow Six Siege Grand Larceny event goes live today (May 5) and runs until May 19.