Operation Wind Bastion is the next Rainbow Six Siege season and promises to bring two new operators from the Moroccan GIGR, but when is the release date? After a very quiet couple of months following the release of Grim Sky, it seems that Ubisoft is finally starting to build hype for Year 3 Season 4 with the first reveals of Wind Bastion arriving just a couple of weeks before the operation's full reveal at the Season 8 Pro League Finals in Rio de Janeiro.
Thankfully, three years of regular content releases based around Pro League Finals and predictable Technical Test Server runs mean we're very confident about when Rainbow Six Siege Wind Bastion will arrive on PC and consoles. However, we're still not sure what kind of changes the Morocco-based operation will bring to Siege's meta and how the new map and operators will play.
So join us as we strip apart every last detail about the upcoming season from the Wind Bastion release date to what weapons, gadgets, and styles its new GIGR operators will bring to the table. Here's everything we know about Operation Wind Bastion.
Wind Bastion release date
So, when can you expect to be playing the Season 4? The Rainbow Six Siege Wind Bastion release date is set for Tuesday, December 4, 2018. That is the date the new map will launch and Season Pass holders will be able to use the new operators.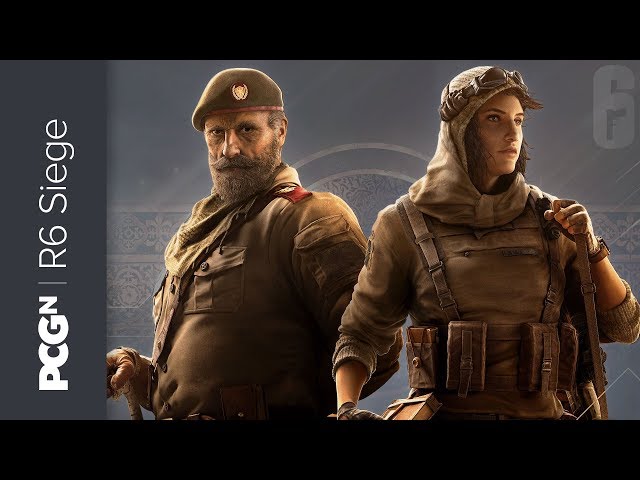 While there was some speculation that we wouldn't see Wind Bastion until December 11 – pretty late after the TTS launch – that's turned out to be unfounded. Ubisoft confirmed that the new season will launch on December 4 along with full patch notes for the launch.
Scheduled Maintenance – Tuesday, December 4th for platforms

PC: 9:00am EDT / 13:00 UTC
PS4: 10:00am EDT / 14:00 UTC
XB1: 11:00am EDT / 15:00 UTC
Expected downtime: 1 hour

– Deployment of Operation Wind Bastion
– Wind Bastion Patch Notes > https://t.co/BIZNB6FQqW pic.twitter.com/N7BpbYCmd5

— Rainbow Six Siege (@Rainbow6Game) December 3, 2018
Hopefully this means that the few significant balancing issues with the new ops and other changes due to arrive with the new patch are fully ironed out ahead of the release.
Wind Bastion operators
We don't have names for either of the new Rainbow Six Siege Wind Bastion operators yet, but we do know what they look like and a little background information for each one. Like most seasons, Wind Bastion adds a new attacker and a new defender to the game's roster.
Watch the video below to see both operators in action across the Fortress and Hereford Base rework maps: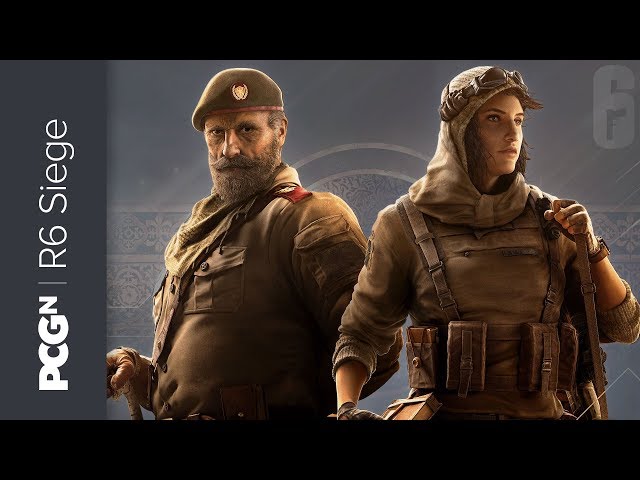 Wind Bastion defender
The Wind Bastion defender is named Kaid. Here's the first official description of this new character:
"The first Operator is a Defender and the Commander himself who is as stoic as the mountains are immovable. He is stationed at the country's legendary kasbah, a training ground that has shocked and awed thousands of incoming soldiers. Strict and imposing, he inspires respect and has taken it upon himself to guide the future of Moroccan Special Forces."
Kaid carries three Rtila Electroclaws which can be thrown and planted on a wall like Ela's Grzmot mines. They'll electrify anything in range – including deployable shields and reinforced hatches. Used smartly, he can electrify large portions of objective locations, spreading his influence across walls and barbed wire, and making Thermite and Hibana's lives more difficult. Powerful as they are, however, the Electroclaws are still vulnerable to Twitch, IQ, and Thatcher's gadgets.
Judging by the leaked trailer for this operator, which you can watch above, his main gadget will electrify reinforced hatches, preventing attackers like Thermite and Hibana from breaching them.
Wind Bastion attacker
Nomad is lightly armoured and has an Airjab rifle attachment. She can fire up to three proximty-activated repulsion devices which adhere to any surface and will knock down operators – friendly or not – when triggered. Downed operators can't fire or use shields for a few seconds afterwards, making them vulnerable to advancing attackers.
You can even blast operators through destructible walls, and – if you're feeling particularly showy, use them to throw yourself into cover. It's a nightmare device for anchored defenders in the objective room, however, as a well placed shot will fling them out of cover.
Here's what Ubi has to say:
"The second Operator is an Attacker who travels wherever the wind takes her. She's among the few explorers who can cross the Sahara, climb up the Alps, trek through Asia's rainforests, march along the Arctic Circle…and still return to her unit in operational shape. Perceptive and resourceful, she's an expert on environmental operations with a knack for pushing the enemy back."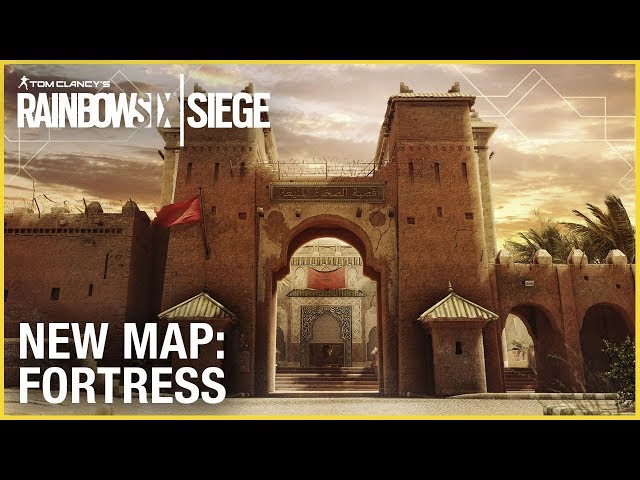 Wind Bastion map – Fortress
The new map for Operation Wind Bastion is called Fortress and is based around a mudbrick kasbah with iconic architecture unique to the southern region of Morocco. The map will be set in the daytime and will offer unparalleled roof access to attackers. That access will be granted via a number of external staircases and towers. The main building is two storeys, with multiple staircases and ladders to allow rotation between the floors – there will also be ample cover in side, which will break up some of the long lines of sight.
In terms of rooms and the map's theme, here's what the official Ubisoft teaser post says: "A section of the Fortress is newly renovated, including the resident Commander's office, bedroom, and private hammam. Players will find widespread use of decorative ornaments, luxurious furniture, painted ceilings and a massive chandelier. The zellige tilework, mashrabiya woodwork and marble surfaces are just some of the finishing touches to this section. There's also a room dedicated to all the previous commanders. Their portraits adorn the walls, reminding all of the importance of tradition.
"The other section of the Kasbah appears older and has yet to be renovated due to the constant flow of incoming soldiers eager for elite training. Rooms such as the dormitory, cafeteria and briefing room still show the original interior décor and furnishings of the Fortress. The Art Team aimed to make the two sections distinguishable from each other, allowing players to better orient themselves on this new map at any given time."
The post also says that this is the first Rainbow Six Siege map designed around a specific operator, saying that the Fortress is "fit for a commander atop a hill with a 360° view".
Wind Bastion Year 4 reveal
While this has not been confirmed, the Season 4 Finals usually offer an overview of all the content coming to the game in the following year, so it's likely that we will also learn what nations, maps, operators, and events are coming to the game next year at the at the Season 8 Pro League Finals in Rio de Janeiro.