The Rainbow Six Siege Shifting Tides release date is rapidly approaching and as usual, Ubisoft has revealed the full season at its latest Rainbow Six Pro League Season Finals. And there's plenty to get excited about when it comes to the upcoming Kali and Wamai.
To ensure you're in the know when the Shifting Tides release date rolls around we've assembled all of the key details about Season 4 below, including the full kit of both the Kenyan and Indian operators. It seems Ubisoft is looking to close Year 4 with a bang, as the Rainbow Six Siege new operators are packing some potentially meta-alternating gadgets – it will certainly be interesting to see what the pros make of the Shifting Tides operators.
Fortunately, we pride ourselves on our R6 expertise and are on-hand to analyse every last detail so you don't have to. Here are all the latest details on Rainbow Six Siege Operation Shifting Tides, when it will release, and other key changes that are coming to the game with the new season.
Rainbow Six Siege Shifting Tides release date
The all-important detail: when does Shifting Tides come out? Rainbow Six Siege Shifting Tides releases on PC December 3, 2019 at 6:00 PST / 9:00 EST / 14:00 GMT.
What are the Shifting Tides gadgets?
We'll start with Kali, our new two speed, two armour sniper from India. Kali's gadget and weapon is the CSRX 300 bolt-action sniper rifle – one of the first new Rainbow Six Siege weapons since Year 3. This can shoot through multiple soft walls and bodies, and will down with a single body shot. The new sniper also comes with a variable zoom scope allowing you to switch between 5x and 12x.
The CSRX also has an underbarrel launcher that fires an LV Explosive Lance. This device can bore into reinforced walls, ignoring any Mute Jammers or Bandit Batteries, and create an explosion on both sides that destroys all gadgets in a small radius. It won't create a new line of sight, but it's enough utility to make you think twice about bringing a Thatcher.
In addition to her sniper, she can take the C75 Auto as a secondary, ensuring she's handy in a close-quarters scrap.
Wamai – the Kenyan two speed, two armour defender – brings the Mag-NET System, which is like a vacuum for projectiles. Throw a grenade, fire an Asphyxiating Bolt, or hurl a Trax Stinger into its radius and it'll stop in mid-air before being pulled towards the Mag-NET device and finally exploding.
Each Mag-NET can only redirect one projectile, but these refresh for Wamai much like Lesion's Gu mines. Mag-NET Systems can also be thrown, opening up a host of new placement options that may make Wamai preferable to Jäger. Just make sure your teammates know where each device is, otherwise they may get a frag grenade or fire bolt dropped into their lap.
Wamai is the first DLC defender who can carry an assault rifle – the Aug A2 – albeit without an ACOG scope. Alternatively, you can take the MP5K into battle, but we heartily recommend the AR.
What is the new Shifting Tides map?
The oil rig had you going, but unfortunately we're actually getting a Theme Park rework for Season 4, so no brand new map. You can see gameplay on the reworked Theme Park below, but the key change is that the trains section has been removed, squishing the whole map together and making it much smaller.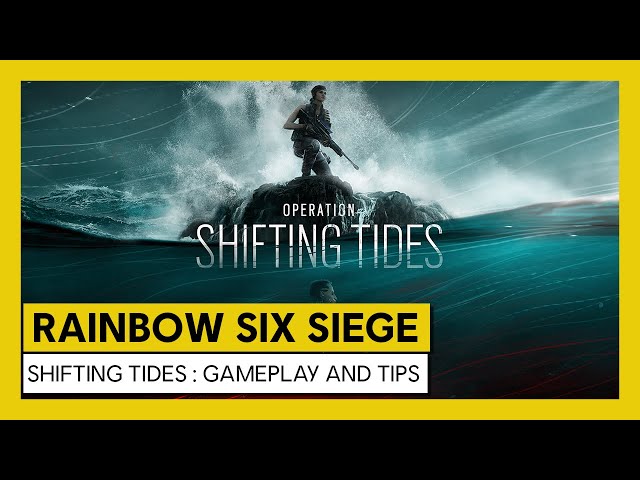 Extra Shifting Tides changes
There are a few additional tweaks coming to Siege with the new season. For starters, bullet penetration has been reworked so bullets will go through limbs and even multiple enemies at once. Ubisoft has broken down exactly how the new Rainbow Six Siege limb penetration system works. There's also a new 'exit rappel' prompt so that players won't accidentally enter the exit rappel animation, leaving them vulnerable to aggressive defenders.
For fans of cosmetics, we now have a Rainbow Six Siege Capitão Elite skin release date to look out for.
Shifting Tides patch notes
The fourth season of Year 4 has finally landed on the R6 TTS, bringing a whopping list of buffs, nerfs, changes, and bug fixes due to arrive when the final release date rolls around. We've broken down the Shifting Tides patch notes here.
And there you have it, everything we know about Shifting Tides. If you're after some general assistance then check out our guide to the best Rainbow Six Siege operators, or you can look ahead to all we know about the Rainbow Six Siege Year 5 release date.