Rainbow Six Siege launched to a muted response way back in 2015, but over the course of nearly a half-decade of continuous updates and improvements, it's become one of the biggest and most-loved multiplayer games on the market. It's one of the vanguards of a new era in online shooters, and now Siege is about to enter a new era of its own as its lead developers leave to pursue new projects.
Creative director Xavier Marquis and brand director Alexandre Remy are both leaving the Rainbow Six Siege development – along with "a few other members of the core team" – to get into new projects at Ubisoft. The new 'core team' on Siege still includes veteran developers like game director Leroy Athanassoff. Remy says the new group for Siege has already been in place for several weeks, and will "take the full lead of Siege within the weeks to come."
While the developers emphasise that there's continuity between the new and old development teams, and that Rainbow Six Siege is still "here to stay." Nonetheless, it seems some changes are coming – but those changes are staying vague for now.
"We will start expanding the 'game universes,'" Athanassoff says. "If you look at player experience, we need to stop thinking about exclusive features and start implementing inclusive features instead. What I mean is that we need to deliver content that will impact every player and the whole community."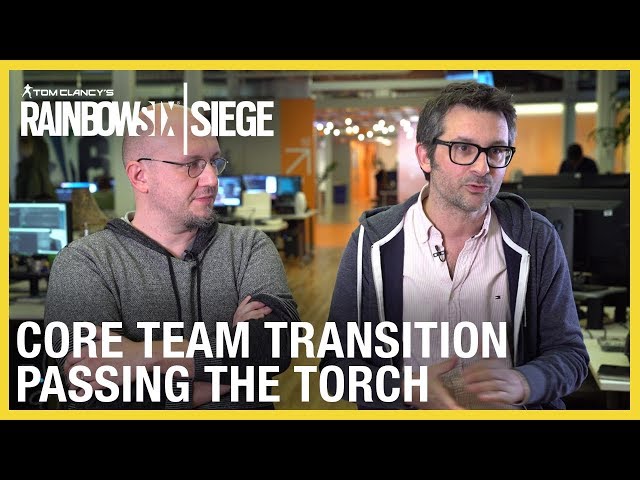 You can hear more from the developers in the video above.
Community manager Craig Robinson assures fans on Reddit that this doesn't mean Siege is winding down. "We are actually in the process of growing the team. We have a few people, Xavier and Alex among them, that have been working on Rainbow Six Siege for almost a decade. They no longer feel as if their direct involvement is necessary for the game to continue to grow, and are going to step away from it to let new people take the lead."
Ubisoft also confirmed that we'll hear more about the future of Siege at the Six Invitational next year, as expected. The event kicks off on Friday, February 14, 2020.