Change is coming to Rainbow Six Siege and its annual schedule of operator, map, and event releases. Today ahead of the grand final of the Six Invitational 2020, Ubisoft revealed not just their roadmap for the next year of Rainbow Six Siege content drops, but also their plans for Year 6.
Up until now, every new year of Rainbow Six Siege has delivered a pretty identical payload of eight Rainbow Six Siege new operators, four significant map changes (either new maps or substantial reworks), and an event every season. However, Ubisoft is describing Year 5 as a transitional year for its hit tactical FPS, where the team will shift from releasing two new ops every season, to just one new op per season. Thi means that for Year 6 there will only be a total of four new operators.
On top of this, Ubisoft is changing its cadence of map releases to reinvest more heavily in existing content. That means no new maps for the next two years. The seasonal events are being overhauled with an additional arcade playlist component, so players will have some more unusual game types to play even when there's no seasonal event on – hopefully this means some temporary returns for fan-favourite temporary modes like the recent Halloween event. Finally, the two new roadmaps also feature a fresh battle pass for every season.
Ubisoft also shared a few key upcoming changes to give players a taster of the kind of additional mid-season updates they want to make going forward. Join us as we detail every reveal of the Year 5 and Year 6 roadmap, from operator nationalities to new gadgets.
Year 5 roadmap
The roadmap for Year 5 shows the game in transition. For the first two seasons of the year, there will be two new operator releases just like in previous seasons. However, halfway through the year the team will shift to releasing just one new operator each season.
You can read more about the first two operators coming in Rainbow Six Siege Year 5 over in our Operation Void Edge release date guide, but here's where the remaining operators hail from. The map rework for this season is Oregon. So the first two ops are obviously from Jordan and the Netherlands.
In Y5S2 the operators come from Norway and South Africa and there will be a House map rework.
In Y5S3 there is only one new operator, and curiously the nation of the operator is listed as classified. The map rework for this season is for Skyscraper.
In Y5S4 the new operator is from Thailand and there is also a Chalet map rework.
The roadmap also features a section for general gameplay updates, although no specific ones are listed or dated. Ubisoft has shared details on some Year 5 gameplay improvements, but no date for them – here's everything revealed so far for Year 5 and Year 6.
Contextual pings
The contextual pings of Apex Legends have made it into countless other games already and Ubisoft has been inspired to implement it for the attacking team, so that they can flag the exact locations of traps. From what we understand, each player can ping one item at a time, but this should help with solo queuing players massively.
Proximity Alarm secondary gadget
This was datamined months ago, but the Proximity Alarm gadget is a throwable, sticky device that defenders can use. When an attacker strays into its radius it will emit a beeping sound signalling someone is in the area and providing key intel for the defensive team.
Mini Thermite secondary gadget
This was mentioned during the Year 5 panel and has not been shown off in full just yet. It is described as a tool that will not replace any of the hard breachers, but will allow for more flexibility in terms of setup on the attacking team.
Map bans
A pick and ban system similar to that used at a competitive level will make it to Rainbow Six Siege. Finally, you'll be able to avoid your least favourite Siege maps. Each team votes to ban one map from a list of three, and then the third one is the map both teams play on. If both teams choose to ban the same map then it's a coin toss between the two remaining maps.
Arcade playlist
An arcade playlist is coming to Siege so casual players can have a bit more fun with game modifiers outside of seasonal events. The first arcade playlist mode is Golden Gun, which gives every player a golden D-50 with one round in the mag. Miss an you'll have to reload to get another round, giving your enemy the edge. It looks like a lot of fun and the ideal way to blow off some steam following a ranked loss streak.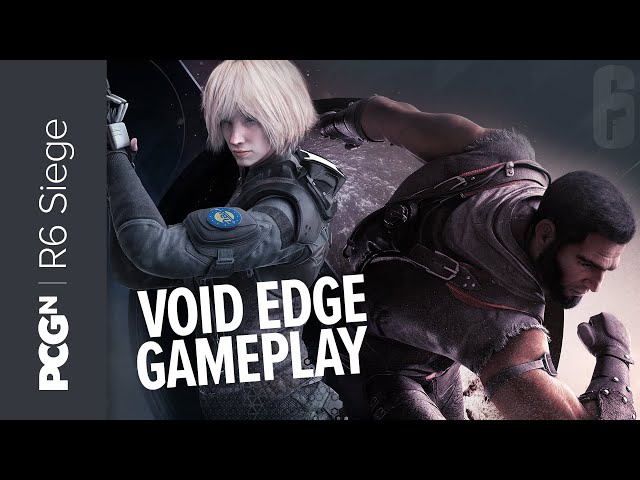 Reputation level
In an ongoing effort to combat toxic player behaviour in Rainbow Six Siege, Ubisoft is implementing a reputation system. The details are scarce, but the intention is that toxic behaviour is recognised long-term and punished to reflect that, while positive behaviour is rewarded and incentivised.
Replay system
If you've never been able to capture your best plays because of hardware limitations then not to worry as a replay system is coming. This will capture the full map, allowing you to switch perspectives just like you're spectating in a pro match.
Tachanka rework
Finally. The most memed operator in all of Rainbow Six Siege is about to get a massive overhaul intended to bring him into the meta. The two key changes are that his LMG is now his primary weapon, and his gadget is now an incendiary grenade launcher that can bounce grenades around corners. These grenades have a similar effect to Capitao's fire bolts and can be used to lock off doorways. His LMG is also unrivaled at opening up the sight, and a quick video demo shows the LMG carving a vault hole in a wall in mere seconds.
Year 6 roadmap
Understandably, exact details are much more scarce for the Rainbow Six Siege Year 6 roadmap, but here's what we know so far. For starters, there is only one new operator per season, there is also a battle pass every season. The promise to keep the arcade playlist fresh, to deliver gameplay reworks mid-season, and have a major event each season also remains. Interestingly, there was also mention of a new core game mode coming to Rainbow Six Siege in Year 6 – no details were given for this however.
Year 6 will also feature a new tournament system called the Rainbow Six Cup, which will allow players to create their own tournaments with rules based on the competitive play.
That's all of the changes that were detailed at the Six Invitational 2020 panel. It's a lot more than we're used to getting, so stay tuned to PCGamesN over the coming days as we dive into some of the details in interviews with the developers.