Think back to the days of Prince of Persia and Uncharted: Drake's Fortune. A decade ago, action-adventure games were the preserve of triple-A studios with the engineering support and staff count to pull off cutting-edge 3D games. As a consequence, the genre's stories were largely told from the perspective of triple-A studios in Canada and the US.
"We always have Indian mythology in our heads," game designer Avichal Singh tells us. "As gamers ourselves we never got to see much of it, and if we did it was stereotyped, cliched, cringey, or not executed well. We knew that isn't how it is, and there was this thought of sharing the lore, myths, and stories of the subcontinent with the rest of the world. That's where Raji happened."
Raji: An Ancient Epic is set in ancient India, where a young girl sets out to rescue her brother from demons – winning the favour of the gods as humanity's champion in the process. It's an action-adventure game stuffed with the traditional furniture of the genre – crumbling ruins overrun by climbing plants – but also splashes of primary colour and Hindu imagery. It's a game enabled by the recent accessibility of engines like Unreal Engine 4, which are making a genre sometimes guilty of colonialism truly global.
Ancient art
The project began in June 2015 with artists Shruti Ghosh, Ian Maude, and Singh. "We all had this itching to do something that hadn't been seen before," Singh recalls. "Especially in the Indian gaming industry."
The initial inspiration came from the architecture of Rajasthan, the state in northern India known for its extraordinary castles, built on colossal scale. Photographs of the Mehrangarh Fort in Jodhpur – which houses several intricately carved palaces, and bears the imprint of ancient cannonballs in its gates – rival anything in Guild Wars 2's wildest concept art. Their imposing architecture defined Raji's direction and art style.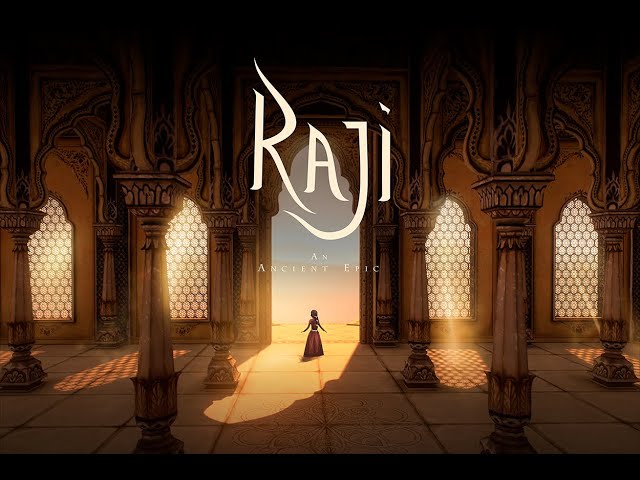 "It came from Shruti's fine art background," Maude says. "She incorporated this unique, ancient way of painting. She had the character art background, and I'm predominantly an environment artist, that's what I specialise in."
Maude worked at The Chinese Room, where he art directed the BAFTA-winning Everybody's Gone To The Rapture. "We effectively swapped roles," he says, "because I said to her, 'You're the best person to do this.'"
"The specific style is called Pahari," Singh adds. "Me and Shruti knew a unique art style was key to getting people's attention. And when we combined the hand-painted textures with the 3D, and combined with the power of Unreal Engine 4, it gave us an output we were not expecting."
Not only Nodding Heads Games was excited about it. The very first social post the studio made to reveal Raji's environment, which depicted an archway in Raji's art style, went viral.
"All our posts used to get 50 or 60 likes, and this one got 1,800," Singh says. "I think I was up till 5am that day. It was the moment which confirmed everything we'd bet on. People said, 'This is indie triple-A'. They could see it was fresh and they loved it."
Rajasthan lights
The Kickstarter that Nodding Heads Games ran for Raji ultimately failed – but it prompted the team to build a demo, and work out a specific mood for the game.
"We went through a lot of mood boards, and decided what time of day it was going to be, what kind of weather were we going for," programmer Paras Chaudhary says.
The feel the team landed on was a very specific one – that of an overcast early morning, during a brief break from the showers.
"We went really heavy with the fog, and it took a bit from the performance," Chaudhary says. "Performance optimisation is one thing that will keep us busy throughout. For the main game we're taking steps from the beginning to make sure it stays under that minimum bar. I think that that will be our ongoing challenge."
It's a fight that's emblematic of the uncompromising vision that drives Raji – both in its look and the subcontinent that it represents, too long forgotten in games.
"It's a really thin road, balancing these two things, because we under no circumstances want to compromise on the mood that we're aiming for," Chaudhary says. "We took a really big hit in the performance when we turned on volumetric lighting. But the moment we did that, we actually got the result we were hoping for."
Raji: An Ancient Epic is due for release in 2020. Unreal Engine 4 development is now free.
In this sponsored series, we're looking at how game developers are taking advantage of Unreal Engine 4 to create a new generation of PC games.