Hotly discussed ever since our first whiff of Nvidia's RTX 20-series back in 2018, ray tracing could finally be primed for popularity in 2020. The Turing architecture was the first to introduce AI and ray tracing accelerating right there in the hardware, catered to the wants and needs of Microsoft's DirectX Raytracing. But the green team will not remain its solitary advocate for long.
Nvidia has been keen to point out that ray tracing isn't a proprietary feature that it owns, wants to own, or intends to keep to itself. It may be the first to include the prerequisite silicon within its GPUs necessary for hardware-accelerated ray tracing – and RTX branding now confusingly synonymous with DXR – but it's been telling us ever since Turing that it hopes to witness a more widespread adoption – if only for a little validation.
And the arbiter of that boon? Consoles, of course. With AMD's ray tracing smarts somehow equipping the RDNA architecture with all it needs to render rays in real-time, it's the key to a wider remit of developers and consumers across formats.
AMD is producing all the necessary technical gubbins for both the PlayStation 5 and Xbox Series X, the next-gen consoles from Sony and Microsoft slated for launch in 2020. Ushering in a new generation of console gaming, perhaps for a 10-year long reign, both have seen fit to include ray tracing as a hot new feature.
So why should a PC gamer give two hoots about console ray tracing? If all goes to plan, console adoption is the exact kick required to supercharge its adoption across APIs, engines, games, and players.
While 2019 has been a successful year for RTX, with titles such as Call of Duty: Modern Warfare, Metro: Exodus, Wolfenstein: Youngblood, and Control all making a splash, so far only a handful of triple-A titles differentiate the ray-traced from the rasterised.
But 2020's announced lineup is already a boon to business. Arguably the most anticipated triple-A game release of next year, Cyberpunk 2077 features realistic ambient occlusion and diffused illumination courtesy of ray tracing, and Ubisoft's delayed hackfest, Watch Dogs: Legion, is also fitted with ray-traced reflections equipped to accurately portray the puddle-covered streets of London.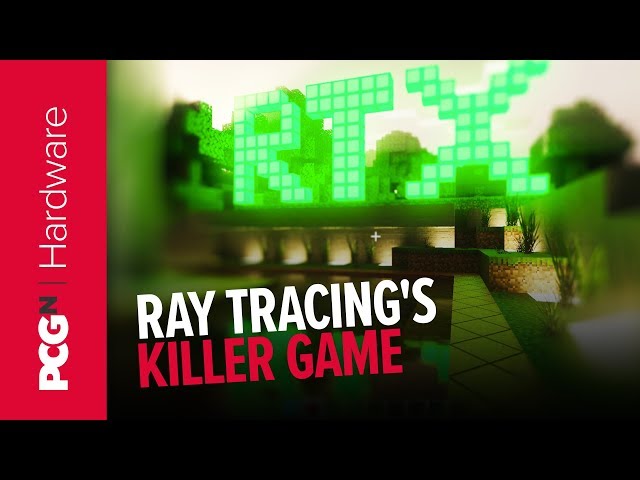 Perhaps surprisingly, Minecraft RTX is perhaps the most stunning of all ray tracing titles slated for 2020. Sorry, I should refer to it as "Minecraft's DirectX Raytracing update." And that's a very important designation – one implies exclusivity and the other merely states Nvidia's DXR-powered tech is compatible. Following my brief encounter with one of the world's most played games in full ray tracing splendor, it's clear there's an avenue for a whole heap of ray-traced titles outside of the realms of gritty shooters chasing the hyper-realism rabbit.
Often underwhelming, a ray tracing overhaul can be difficult to price up. The tech doesn't come cheap and the effects aren't always all that spectacular. That's where Minecraft's DirectX Raytracing update differs, however. The game's simplistic form and limited lighting in its traditional garb makes that DXR on moment even more magical, and that much more impacting to the first time user. Suddenly ray tracing is a tangible change – maybe even a worthy one.
Worthy of spending a heap of cash on the latest graphics card or console for? Perhaps. At least Microsoft's aiming its sights on 1080p60 performance for Minecraft's DXR update on an RTX 2060, currently the cheapest card built with ray tracing in mind. Both Nvidia and AMD appear to be eyeing up a late-2020 release for next-gen cards, and we suspect ray tracing will play into both companies' strategies.
How AMD intends to implement ray tracing into its RDNA 2 architecture, we don't yet know. However, the company's always had a knack for compute efficiency, just ask crypto miners, and that's sure to help it accelerate BVH construction and ray-heavy workloads, too. While we're on the subject, even Intel's offering some light ray tracing with BVH offloading to multicore CPUs thanks to its OneAPI toolkit.
Despite a rough start by the observable numbers to hand, RTX sales are on the rise, too. During the Credit Suisse Annual Technology Conference, Nvidia's CFO, Colette Kress, stated that two of every three desktop graphics cards sold by the company were ray tracing ready.
"Our ray tracing boards, that we sell in desktop," Kress says (via Seeking Alpha), "two-thirds of it is now with ray tracing. So we're really pleased with the market adoption of it and of course there is absolutely more room to grow."
There's still a long way until any ray tracing card displaces the GTX 1060 as the PC gaming champion by way of overall adoption, but it's a sign of a market that's at least willing to buy cards capable of ray tracing. Whether specifically for RT Cores or not, these are users who can now turn RTX on and off at the flick of a switch.
Similarly, making the switch easy for developers with game engine support is key, and we're already seeing the most popular engines receiving ray tracing support spanning APIs. With Unreal Engine's extensive implementation, Unity, or even CRYENGINE's GPU-agnostic fare, it won't be long until ray tracing is par for the course.
From game and engine support to compatible hardware – helped along by next-gen consoles sales – we will see at least an increase in opportunity for ray tracing in 2020. And an opportunity to see devs' hard work rewarded for implementing it on a grander scale. With devs on board, and at least a healthy user base willing to click the switch, we could be in for a banner year for real-time ray tracing.