Double Damage Games has been flaunting the demo for its new space western adventure game Rebel Galaxy: Outlaw at PAX West this weekend. The game will feature a new main character and a bigger universe than its predecessor, Rebel Galaxy – "filled with lowlifes, cops, pirates, and blue-collar folks just trying to get by".
Rebel Galaxy: Outlaw was revealed last Friday, accompanied by a comic book inspired trailer, and already feels completely different to the first game. Gameplay footage shows that this new entry will have a more ambitious story, as well as expanding on the game's universe with updates to bounty hunting, pirating and trading.
The main character of Rebel Galaxy: Outlaw is no-nonsense Juno Markev, whose story covers events that take place 35 years before the first game in what is described as a "sort-of prequel". The gameplay trailer shows the process of Markev finding and chasing down an outlaw with a bounty on their head and showcases the new shiny improvements that the devs have made to the game – such as a more detailed dialogue system, where the player can ask seedy bar dwellers about various topics including bounty hunting and cargo jobs that you can take on to earn a quick buck.
There is a large selection of ships that you can choose between at the space station, from giant cargo vehicles to nippy assault ships, with options to customise each ship to suit the job you are embarking on. The trailer also shows the very flashy interior of the ship's deck that displays mission coordinates, flight map, ship damage, and subspace radio stations that you can surf through.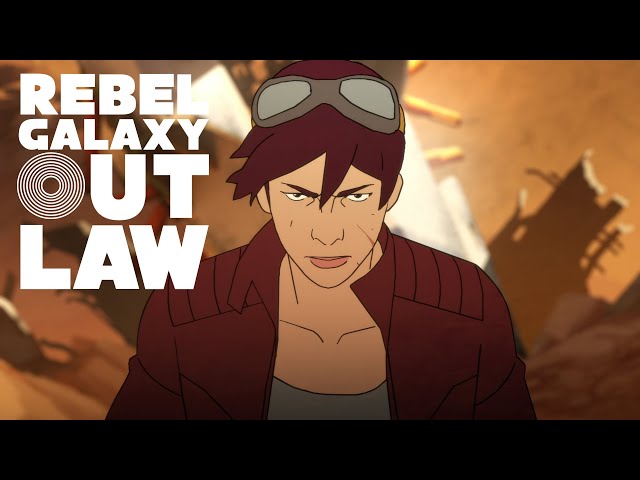 An impressive chase sequence finds a ship tailing a pirate outlaw in a gritty, explosive dogfight – all accompanied by a slide guitar soundtrack that echoes the likes of Firefly and Cowboy Bebop.
Rebel Galaxy: Outlaw is set to release on PC early next year.