A Resident Evil 4 Remake mod that adds Nvidia DLSS support to Capcom's horror re-do has landed, and it seemingly puts AMD FSR 2.1 To shame. While both graphics upscalers lend Valve's handheld a much-needed helping hand, the GeForce feature appears to churn out a higher fps count while producing better visuals.
Our best Resident Evil 4 Remake settings guide proves that you can boost fps in the revamp, but it could be a challenge if your rig isn't armed with the best graphics card. That's where upscalers like AMD FSR 2.1 come in, as they can effectively help you perform some frame rate boosting tricks that'll take you over the 60fps line. Of course, the Resident Evil 4 Remake mod community is working hard to add extra spice one of the best horror games on PC, and that includes adding an unofficial Nvidia DLSS 3.1 option.
A demonstration by YouTube channel MxBenchmarkPC shows the Resident Evil 4 Remake DLSS mod in action, including a handy side-by-side comparison. Fps trackers for FSR 2.1 and DLSS 3 suggest the former provides around 12% more frames while running at 1440p with mostly high settings enabled. It's also worth noting that an RTX 3060 is used for the test – a card that's not officially compatible with DLSS 3.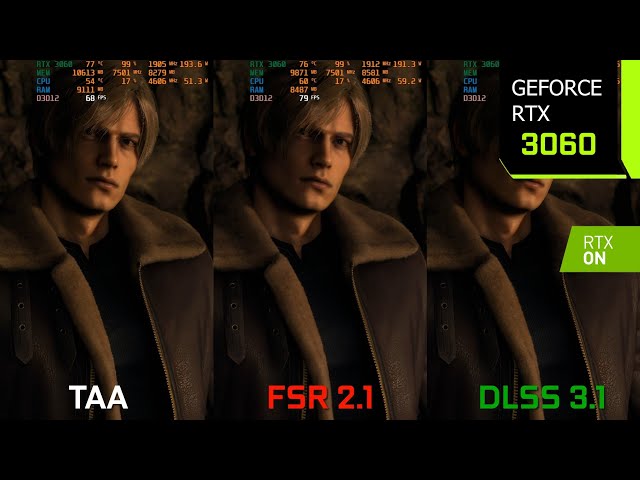 Of course, we'd advise trying out the RE4 Remake DLSS mod for yourself to see if it provides more oomph than FSR 2.1, as your mileage may vary. In addition, it's worth reiterating that MxBenchmarkPC says they're using DLSS 3.1.11, and boons like Frame Generation mean it's not exactly a fair fight. Ultimately, we'll be able to decide on a clear winner once FSR 3 arrives, as AMD's Fluid Motion Frames tech could make all the difference.
If you're looking to tinker with Capcom's terrifying trek, you'll want to check out the best Resident Evil 4 Remake mods. Of course, if you're hoping to fight off the cult of Los Iluminados without interference, you'll need to arm Leon with the best weapons instead.
Looking for a reliable performance monitor? Download the free PC Game Benchmark fps Monitor to track your frame rates as you play and spot fps drops.