Coffee Stain Studios has announced that its new game, Satisfactory, will launch into early access on March 19. The factory building sim has been in closed alpha since October 2018 and will launch later this month on PC as an Epic Games store exclusive.
Satisfactory is an open-world factory builder where players are tasked with mining an alien planet's resources to complete a secret project for your bosses at FICSIT Inc. You begin by gathering resources like rock and wood and slowly climb the tech tree to the point where you're building a huge number of heavy machines. It's played in first-person so you can get right into the hustle and bustle of machinery, watching as your fully-automated, mechanical empire grows around you.
"We're a small team and Satisfactory is a hugely ambitious project which we've had our heart set on creating for a long time," game director Oscar Jilsén says in a press release.
"There will be bugs and flaws but we've reached a point in development where the game is stable enough to offer an awesome experience and we're looking forward to inviting players to join us on this exciting Early Access journey."
When speaking to PCGN in an interview about Satisfactory, Coffee Stain programmer Jace Varlet chatted about the studio's excitement and its decision to launch on the Epic Games store.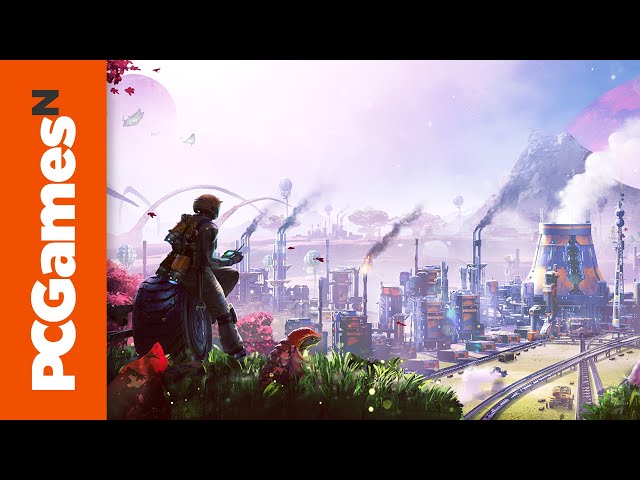 "It's a big break from Goat Simulator and it's by far the biggest thing we've ever done," explains Varlet. "The exclusivity is for 12 months. What we do after that we don't know, we haven't even thought about it.
"We've worked with Epic for an incredibly long time, since before Coffee Stain was a thing so there's a good relationship there. But we also want to advocate for new revenue sharing. Not necessarily just on Epic, but we want a new standard anywhere."
Read more: Check out our list of the best building games on PC
You can read the whole interview with both Varlet and Jilsén in our Satisfactory preview where we had a sneak peek at what goes into building an industrial kingdom. Satisfactory is currently available to pre-purchase over on the Epic Game store for $29.95/€29.99, which works out around £25.