"Everybody wants to grab a sword," trainer Atala tells combatants in The Hunger Games. "But most of you will die from natural causes. 10% from infection, 20% from dehydration. Exposure can kill as easily as a knife."
It's an idea that survival game developers have largely ignored, too. While single-player games like The Long Dark have forefronted the struggle against nature, the multiplayer open worlds available on Steam tend to become combat-focused killzones. The studios behind SCUM intend to change that.
"We're trying to take the next evolutionary step in the survival genre," game programmer Tomislav Oreskovic tells us. "We're trying to mix in a lot of realism and simulation. We believe that should be present in survival games but mostly isn't so far."
Set in a dystopian near-future where mega-corporations wield the stick, SCUM is the carrot – a brutal entertainment show designed to keep the masses busy and complacent. In this TV extravaganza, prisoners are sent to a private island to battle unto death, vying for the support of viewers, producers, and sponsors. The winner needs knowledge, and not just skill, to master the complex systems developers Gamepires and Croteam have built.
Scale and streaming
The telly corporations of SCUM's universe must be rolling in it. The show's private island is 144 square kilometres of dense forest, abandoned towns, former airfields, and beautiful beaches.
"I believe this is the biggest map made with Unreal Engine 4 so far," game programmer Tomislav Oreskovic says. "This map is fictional, but it's based on the Croatian landscape, the Croatian flora and fauna."
Gamepires and Croteam have worked hard to cover this vast space with varied and interesting terrain. The island is broadly split into three biomes – a coastal Mediterranean paradise, lush continental forests, and rocky mountains.
"Unreal Engine 4 has its own tools for procedural foliage, landscapes, and splitting the map into different sectors and submaps which are then dynamically streamed in and out," Oreskovic says. "Of course there is a lot of tweaking, but in general our experience with it is really good, because we can pretty much seamlessly go from one end of the map to the other. It's all tied to their streaming system and working really well."
Master of metabolism
Unreal Engine 4 grants developer access to its code to fiddle with as they see fit. "We really modified the engine," Oreskovic says. "We use a lot of plug-ins as well, but we modified it ourselves to optimise for our own needs."
One of those modifications is a custom system to track your metabolism. In fact, under the hood of SCUM are dozens of complex systems that simulate inertia while moving, the speed that clothes dry, and the inner workings of the human body.
"In most survival games, you're trying to fight what's outside," Oreskovic explains. "In SCUM, your character is in a struggle with their only bodily functions as well. You have your calories intake, your burned calories, your metabolism, your nutrients, vitamins, and minerals."
SCUM even has a digestion system, which Oreskovic assures us is very important. There's a whole metagame attached to these considerations – pick a muscular body type during character creation and your strength will grant you better recoil, but you'll need to find more food to survive. For those who would rather focus on the combat than get lost in the minutiae of their in-game diet and exercise, the rules are simple: remember to eat and drink. "Like in real life, you don't have to be a nutritionist," Oreskovic says. "You can lead a happy and long life without taking much care. But your body will change, you will gain and lose weight."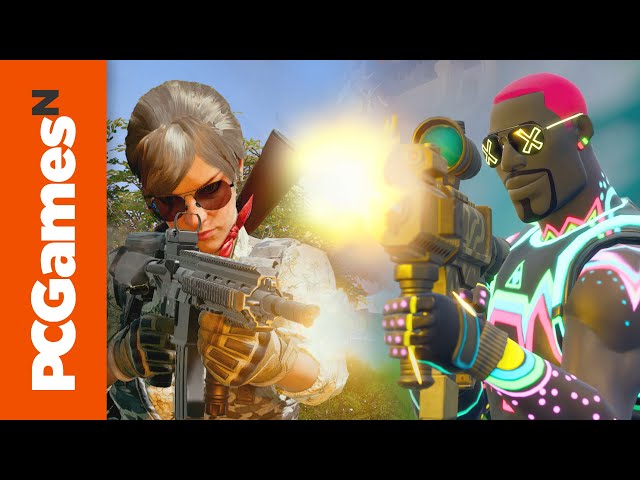 Even when you get it wrong, SCUM's systems may not be as punishing as they sound. "Since this is all based on real life, if your energy or hydration gets low or falls to zero, you won't die," Oreskovic says. "Your character will suffer, you will be weaker and in pain. But you will be able to suffer for quite some time before you're really bad."
Frankly, it's a relief to finally find a survival game that recognises my ample reserves of stored fat as the benefit they really are. Starvation can kill as easily as a knife, you know, so pass the biscuits.
SCUM is available in Early Access. Unreal Engine 4 development is now free.
In this sponsored series, we're looking at how game developers are taking advantage of Unreal Engine 4 to create a new generation of PC games. With thanks to Epic Games, Gamepires, and Croteam.