Thanks to Sekiro, 'hitbox porn' is having a moment on Reddit. I'm very happy about this and I thought you might enjoy it too.
As you probably know, hitboxes are invisible shapes attached to objects in videogames when programmers need other objects to be able to hit them. You may or may not know that a lot of hitboxes are imprecise – humanoids are frequently made of just a few rectangles for the body, head, and limbs (sometimes not even the limbs). This can lead to weird collisions of the kind that I'm sure we've all seen in shooters or action games: a bullet that scores a headshot despite seeming to pass through thin air.
Hitbox porn is what happens when you have the opposite experience. When a hitbox is so tight to a character's body that even the smallest movements, perhaps involuntarily, move them out of harm's way. Dark Souls became known for the precision of its combat, and now Sekiro has taken this reputation to the next level.
We present below some of the finest examples of Sekiro hitbox porn that we've seen so far. Let's start with one clip from last August's Gamescom demo by streamer EpicNameBro. It made the rounds on Twitter, racking up over 20,000 likes:
Sekiro. pic.twitter.com/94gsiNp9CI

— Marcus (@EpicNameBro) August 25, 2018
In a similar vein, here's u/tajanstvenix nullifying an axe blow not by blocking, as intended, but because of the subtle way Sekiro moves his head when entering the block stance:
Hitbox Porn from Sekiro
And another from u/Robin183, who is able to avoid a lethal slash from a Samurai general purely because he's posture-broken and drive to the ground:
Hitbox porn from Sekiro
Here's hitbox porn at an epic scale against the Guardian Ape from u/Disento. If you're wondering about that backflip dodge, the comments reckon it's a reverse nightjar slash:
This, from Rex Blogger on YouTube, is a little less dramatic, but it shows just how tight to his head Wolf's cranial hitbox is: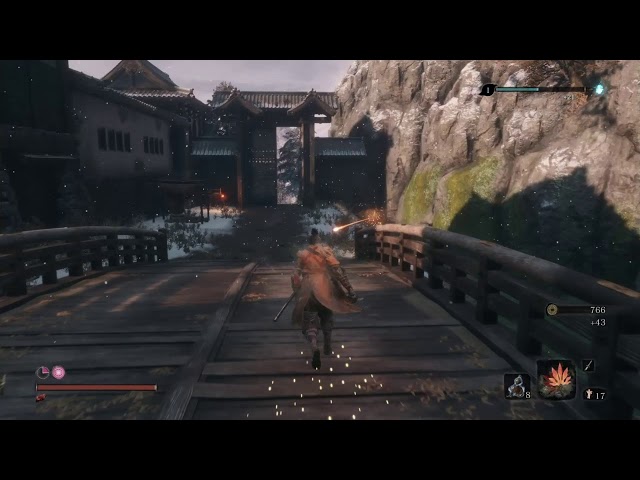 The most exciting and cinematic duels I've had in Sekiro so far have come against the ministry ninjas, and as this clip by 'josh, frogs are pretty cool' (they are) shows, they're also a great source of hitbox porn. This synchronised slash could've come straight out of a wuxia film:
The Sekiro community is understandably flourishing so soon after release, with the sharing of hitbox porn just one of many activities there that's raised a smile. See also someone having beaten Genichiro with a steering wheel, or this collection of Sekiro mods.
It's good, then? Yes. Here's our Sekiro: Shadows Die Twice review
FromSoft games have traditionally been associated with console, especially PlayStation, but the vibrancy of the modding scene and the fact that Sekiro was the biggest Steam launch of the year so far proves that a good chunk of this activity is taking place on PC.