Although it's brand new, with a full release planned some time this autumn, ShockRods conjures memories from long ago. As a child, we would sit on the living room floor while our older brother and dad (also older) watched Robot Wars. If you've not heard of that show we suggest you go find some of its '90s episodes on YouTube as it's one of the best British game shows ever made. Contestants would build the most violent remote-controlled vehicles outside of the armed forces and then make them fight to the death. Pretty much adult Pokemon.
Watching the carnage of ShockRods put us back in the mind of that kid, basking in the glow of the TV, witnessing machines lacerate one another. And that's a good thing.
If you prefer a more direct videogame analogy, fans of developer Stainless Games' legacy of car-based mayhem in the rebooted Carmageddon games, or of arena shooters such as the original Unreal Tournament and Quake III: Arena, ought to see something to like in ShockRods. That's because it was Stainless explicit goal, borne of a team brainstorm, to take meld its driving heritage with its love of "arena FPS shooters" and "old-school, fast-paced, twitch-reaction multiplayer".
Having not seen a new release in this genre for a while, the team wanted to bring its own spin to a new generation of players. So how did Stainless set about creating such a 'fast, furious and fun' experience, and how did Unreal Engine – their weapon of choice – help them do it?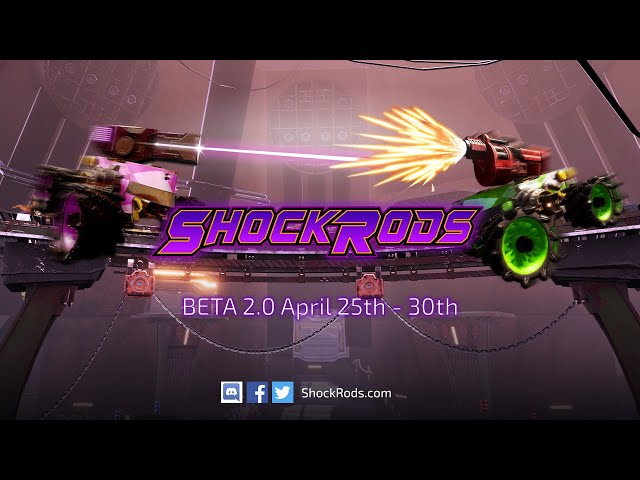 "Unreal Engine is a mature suite of tools that we'd already been using for other projects," the devs say. "It allows for very rapid prototyping, which given the nature of ShockRods' development was an invaluable aid in allowing us to try things quickly; code a feature, throw in assets, and test if it worked."
Although ShockRods' premise sounds simple – car A blows up car B – really nailing a simple premise can still involve a lot of work. This iterative approach was necessary to gradually hone fundamental systems, such as controls and movement, until it felt terrific to play.
Your car can spin and twist through the air, or drive at breakneck speeds, but whilst doing that you're going to need to control a gun. "We wanted to allow the player to move very freely in 3D space, with a jumping/boosting system that meant cars could behave like a character in an FPS," Stainless tells us. "Getting the speed of movement right so the game played at a high tempo, but still allowing the player to manoeuvre their car accurately – while aiming and shooting independently of their direction of movement – all took a lot of iteration and tuning." Other essential features include allowing your car to say 'Get Rekt'. Saves your poor fingers from typing it out.
This iterative process is obviously helped by a rapid turnaround when prototyping. While Stainless' own familiarity with the Unreal Engine helped here, so did Unreal's toolset, which is regularly updated with developer needs in mind. "At one point earlier in development we were working with an external sound plugin," Stainless explains. "Then Unreal updated their own tools, which meant this too could be entirely handled from within UE. As a developer, this is what you want – a single go-to solution that's all kept up-to-date in a synchronised, harmonious manner." This allowed the team to concentrate on designing the game without worrying so much about what was "under the hood" (their pun, not ours).
Constant trials of new assets meant throwing them into the game and then making a judgement call on what needed to be done, or even if it worked at all. Prototype, test, repeat. The Unreal Engine allows Stainless to do that with its comprehensive toolset and playtesting capabilities, as well as the passionate team spending hundreds of hours testing and refining the gameplay mechanics.
As any team would, they also wanted the game to look fantastic, even at the high frame rates necessary for smooth and reactive multiplayer action. "The art assets and special effects have to look good but be economical too – so we aren't wasting precious processing on, say, massive plumes of smoke that billow and dissipate and hang in the air till the end of the match". High-speed cars need a high frame rate; it just makes sense.
ShockRods has four game modes, from classics like team and free-for-all deathmatch and capture the flag to innovations like Ball Mode. That's a bit like Rocket League, but with (more) violence – either work as a team to protect the ball carrier as they aim to score, or just blow up your opponents and walk it into the enemy goal. Think full contact basketball.
Along with gameplay modes, you get upgrades. Each vehicle at its base controls exactly the same, but while in a match you will be able to pick up and utilise an arsenal of other abilities, including but not limited to gatling guns, rocket launchers, balloon cannons, and freeze guns.
But just because your car will control the same as everyone else's doesn't mean it needs to look the same. From pink wheels to blue steels, there's a way to express your every mood. Probably best not to think too much about how much you're investing in something that's about to blow up.
But why exactly are these swanky tanky cars going after one another, you might ask? As poetically put by Stainless: "It's a delicious mystery, wrapped in an enigma. Or, to put it more simply, they're cars with guns. What else would they do?"
ShockRods is planned to release some time this autumn. You can learn more on its Steam page. Unreal Engine 4 development is now free.
In this sponsored series, we're looking at how game developers are taking advantage of Unreal Engine 4 to create a new generation of PC games. With thanks to Epic Games and Stainless Games.