Hi-Rez Studios has announced the next two Gods heading to Smite. During a speech at the company's keynote presentation, Smite's 99th and 100th playable characters were revealed, with the legendary King Arthur and the wizard Merlin heading to the game next year.
Arthur is a melee character, with combos and fluid animations that developer Titan Forge says haven't yet been seen in the game. Merlin, of course, will be a mage, but to show off his magical prowess, the character will be able to change between three different stances, each one representing a different magical element.
The two new additions are slightly surprising, as Smite's unique selling point is that each of its characters are all gods, each stemming from a variety of pantheons from across the world. Arthur and Merlin are traditionally thought to be heroes of English and sometimes French origin. While they might be legendary figures however, they aren't exactly divine, and certainly don't fit into Smite's pre-existing Celtic pantheon, which represents several gods from across British and Irish mythology.
There is, however, a reason for that. In a press release, Smite's lead game designer, AJ Walker, says that "we wanted something special" to mark the game's 100th character. While Arthur and Merlin aren't strictly gods, they "fit within Smite's rules of mythology and legendary characters."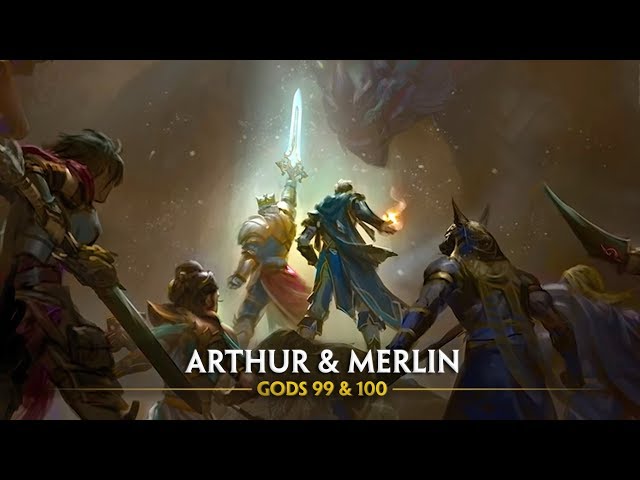 As well as the two new characters, Smite is getting a new Arena map. The revamped setting documents the conflict between the recently released Hera and the Greek goddess of War, Bellona. As well as a new setting, the mode will now include a new foe in the form of the brutish minotaur, and should now be available for players.
During the keynote, Hi-Rez also announced that Smite will launch for Nintendo Switch in January, and will be accompanied by full cross-play and progression for PC, Xbox, and Switch. At time of writing there's no exact release date on the new gods, but expect to see them appear early next year.