Spongebob Squarepants is a television phenomenon whose place in history seems assured. The cartoon started in 1999 and defined childhoods of millenials and gen-Zers the world over. Hundreds of episodes following the yellow kitchen sponge and his friends have led to Spongebob Squarepants becoming one of the most recognisable and successful cartoons of all time. The memes alone will likely be with us for decades at least.
It wasn't long before the series branched out into other media territories, and soon enough, in 2004, Battle for Bikini Bottom was released. The videogame, like the series, became a cult hit and a a staple in the childhood memories of many, even winning a Nickelodeon Kids' Choice Award in the same year.
And now, 16 years later, the game is making a comeback. 2020's Battle for Bikini Bottom Rehydrated will remake the game for a new generation of Spongebob fans. This has all gotten very profound, considering the silliness and humour of the Spongebob series, so we're going to dry our eyes and tell you all about the conversation we've had with Philipp Kogelnig, a senior programmer at Purple Lamp Studios.
When looking at the game you might notice that the art style is a bit different from that of the cartoon. As with many Simpsons games, the platformer is in a glossy 3D style, while the show is 2D. You can see that other cartoon games, such as South Park: The Stick of Truth, stay true to the source material, so why would Battle for Bikini Bottom stray from it? "We collaborated closely with Nickelodeon, who guide us with their unparalleled insight into the SpongeBob franchise," Kogelnig says. "Unreal Engine allows us a much higher visual fidelity than the original had, which brings about its own challenges.
"Doing the game in an actual toon shader style was something we never really considered, as we felt that something similar to the look of The SpongeBob Movie: Sponge Out of Water would fit our vision of the remake better, and at the same time be closer to the original game. Especially since, unlike South Park's Stick of Truth, our game takes place in sprawling 3D platformer levels, that sometimes nearly feel like little open worlds."
As Kogelnig says, the original game doesn't have as high a fidelity as the remake will; 16 years of technological progress will do that. As with any remake, the key question is how far to take things – how should those 16 years of new technology and game design wisdom be applied? "It was very important to us to keep the abundance of distinct gameplay moments that still makes this one of the most varied platformers out there. Each level has a distinct look and feel, and very often some unique gameplay mechanics to support that.
"Since we aim to stay true to the original game, the main challenge was to carefully update the original gameplay without losing its iconic feel. As with any 3D platformer, the camera is the biggest challenge to get right." And of course, there is the challenge to "simply to do justice to both one of the greatest animated series ever created and the arguably best game based on it."
No small task indeed. Much of the original must be recreated faithfully, then, but what of smaller improvements? Mechanical refinements, the removal of inconveniences, and general quality of life alterations "like a strafing feature for Patrick's Throw-ability, or the option to choose whether you want to invert SpongeBob's Cruise Bubble (a first-person bubble rocket you can directly control)" – these are all on the agenda.
There's a third category of improvement to consider – whether to include new ideas, ones which have been developed, popularised, or made possible in only the last decade. Online multiplayer has exploded since the last console generation and broadband internet made it available to gamers beyond those of us who had PCs and the patient to tolerate dial-up back in the '90s. It's frequently an expectation in games today, and Battle for Bikini bottom is getting in on the fun with Purple Lamp's take on a horde mode. "Making sure that the abilities of SpongeBob, Patrick and Sandy all feel right in multiplayer is, of course, a big challenge, but also very rewarding," Kogelnig says. "It's just a lot of fun running around with a friend and bashing hordes of robots to bits!"
Making it in Unreal focuses on the games made using Unreal Engine 4, and of course, this includes Battle for Bikini Bottom. Unreal's features enabled Purple Lamp to solve many challenges it faced. "The original Unreal camera setup for a third-person character was a solid starting point for our camera development," Kogelnig says, but the expertise that other Unreal developers share within their supportive community was key in refining it: "The article 'Six ingredients for a dynamic third-person camera' from Daedalic Entertainment [on the Unreal Engine website] was of great help to us."
Epic widely provides articles and knowledge about all Unreal Engine 4's features, from the dynamic third-person camera, to the Gameplay Ability System, which Purple Lamp also used in development. "Using the existing Unreal Gameplay Ability System gave us a huge boost when starting to develop the different character skills and abilities, furthermore expanding the abilities to multiplayer got a lot easier using an existing framework." The Unreal Ability System is a framework in the Unreal Engine in which developers can create attributes and abilities you may frequently see in MOBAs or RPGs. Building up characters, or breaking down items etc can all be designed and created using this framework – useful for Spongebob characters abilities, for example.
The team also had to create custom solutions for every level, due to the features and feel of the original game. "All those unique gameplay implementations had to work well together and we had to make sure we are not creating unexpected edge cases.
"The profiling and visualisation tools offered by Unreal Engine 4 provide many ways to identify otherwise hard-to-find performance bottlenecks. In that regard, the engine also includes an easy-to-use LOD (level of detail) creation tool to optimise geometry that's far away from the player." Detail is important when a player is close to whatever they're looking at, but if they're far away, what's the point of that detail? In Unreal Engine 4, you can place mesh detail which, as a player moves away, will become less complex, making your level perform better.
"On the visual side, our team uses the material editor to create the game's unique look and its stylised effects." The Unreal Engine Material Editor is a node-based interface which enables developers to create shaders for the world they're creating. This is important when the style and materials of Battle for Bikini Bottom are as distinctive as they are.
Tools like these are big arguments in favour of using Unreal, but they're bonuses. The real reasons for making a decision as important as your game engine must go deeper. "On every project, the choice of the best engine can be critical to the success and quality of the game," says Kogelnig. "In the end, we decided on Unreal for several reasons. First, it best matched the DNA of our studio; we are all experienced C++ developers, and we know we can rely on C++ as a high-performance development language that allows us to get close to the hardware. This, in turn, allows us to pursue the goal of supporting full 60fps gameplay on all our target platforms. It also has feature-rich rendering and shading that allows us to scale the visual quality on all these platforms to make best use of current-gen hardware."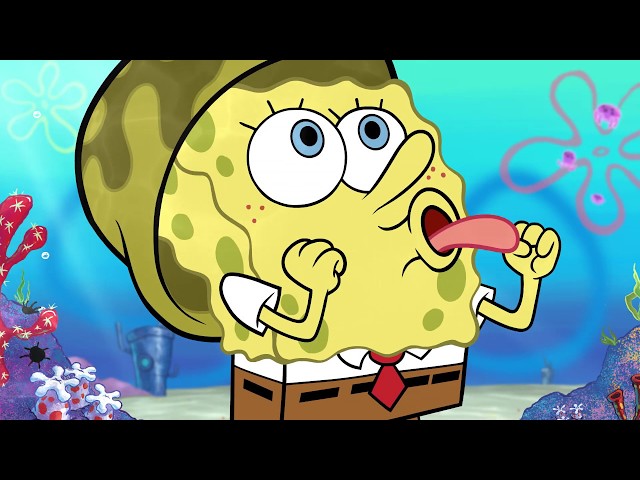 The team had a little experience using Unreal previously, too. "Our team had prior experience developing a PvP action multiplayer game (MisBits) and we got additional knowledge and support from a colleague joining us from his former job at Unreal ArchViz."
Spongebob Squarepants Battle for Bikini Bottom is a cult classic, and Rehydrated looks to revive the spirit, and improve the gameplay of the original. We feel it's only appropriate to end on the words of a wise sage – Spongebob himself. *Ahem* I'M READY, I'M READY, I'M READY.
Fin.
Spongebob Squarepants Battle for Bikini Bottom Rehydrated is out this year. Unreal Engine 4 development is now free.
In this sponsored series, we're looking at how game developers are taking advantage of Unreal Engine 4 to create a new generation of PC games. With thanks to Epic Games and Purple Lamp Studios.