Rumours surrounding Respawn's upcoming Star Wars game, Jedi: Fallen Order have appeared, letting us know a little more about the new title from the Titanfall 2 developers. On a recent episode of the Making Star Wars podcast, host Jason Ward said he had been talking to unnamed persons about the tone of the new title.
The game was first announced in 2016, but we actually learned our first bits of information about the game during EA's conference at this year's E3. We know its name, for one thing, and a little about its story, as well as the fact that it'll hopefully be out around the end of next year.
At E3 earlier this year, we learned from Respawn CEO Vince Zampella that Jedi: Fallen Order will be set shortly after the events of Revenge of the Sith, after the Fall of the Jedi Order (obviously). You'll play as a Padawan who survived Order 66, and, presumably separated from your master, will either be in hiding or on the run from Emperor Palpatine's clone army.
In the podcast (starting somewhere around the 18:40 mark), host Jason Ward said he'd been talking to "someone in the gaming industry," and had learned a little about the tone of the game. Ward says that Fallen Order will "be pretty much like Force Unleashed without the Mountain Dew qualities."
If you don't remember Star Wars: The Force Unleashed, it did have a pretty edgy vibe. It followed a character called Starkiller, for one thing, a secret apprentice to Darth Vader between the events of Revenge of the Sith and A New Hope. Starkiller is tasked with hunting down and murdering surviving Jedi, and the game did take some liberties in terms of what he can manage with the help of the Force.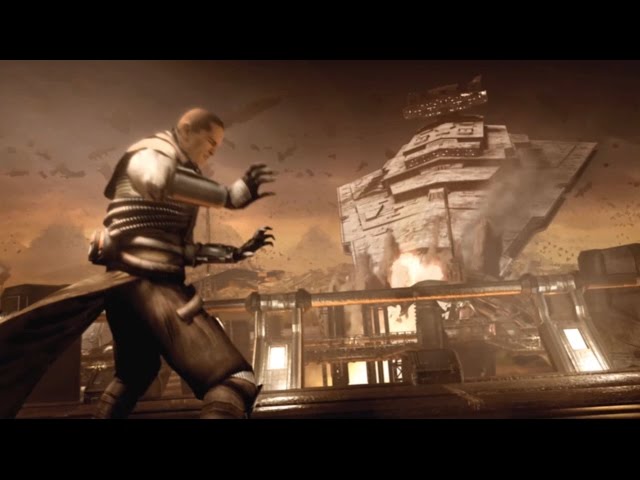 Ward references that, but says that Fallen Order will remain "true to canon, and content that we've seen in films and stuff, so we won't see anything absurd." He also comments that "you won't see people pulling down Star Destroyers and stuff." You can see the moment Starkiller performs that particular feat in the video above, as he literally pulls a spaceship out of orbit, putting Luke's misadventures with that X-Wing to shame.
It doesn't seem as though there'll be much in the way of multiplayer, however, as Ward says that fans "will want to keep your Star Wars Battlefront installed for Star Wars multiplayer."
These are, of course, just rumours, but as pointed out on Resetera, the podcast was the only site to get the entire plot for The Force Awakens right ahead of its release. MSW also revealed details about the now-cancelled Visceral Star Wars game. Take all this with a pinch of salt, of course, but be aware that the rumours come from a place with a history of getting these things right. Either way, we'll likely learn more about the game over the next year or so, so keep an eye out.