A few months back some Reddit users discovered that Valve got a patent published detailing its vision for a possible Steam controller version two in December 2018. The design looks pretty similar to its existing controller, but adds some new features, as you'd expect. Other than the patent, which is far from a confirmation that anything is actually on the way, though there have been no real signs of a new Steam controller so far – until now. A YouTuber has just unveiled some findings from Steam files that could suggest otherwise – and that it could include the cool pressure feature showcased by the Valve Index 'Knuckle' controllers.
YouTube channel Critical Input, which according its bio "covers anything and everything related to Steam Input" (Valve's software for controller profiling), has posted a video showing that in some Steam controller files there appears to be a section for "Steam Controller V2" (you can check the video out below). From about the 2:46 mark, the YouTuber highlights references to "upper and lower grips on both sides", and intriguingly, pressure readings for the controller's bumpers and four grips.
This seems to correspond directly with what you can see in the patent's design. The new design incorporates "underlying force sensitive resistors", or "FSR", and the patent says "in this context, a FSR is a transducer that has an electrical resistance" that "changes based on the applied force that it experiences". Basically, this measures how much pressure you're putting down, adding a new dimension to your gameplay – and sounds very like the new Valve Index Knuckle controllers.
In our Valve Index review, we highlighted that they "measure how hard you're squeezing the grip, allowing for a more analogue style of manipulation. You could just lift something delicate into the air, or crush it in your fist". The Index controller patent itself similarly references the "force sensing resistor (FSR)" and a "plunger" that "conveys a compressive force applied via the outer shell". Sounds pretty familiar.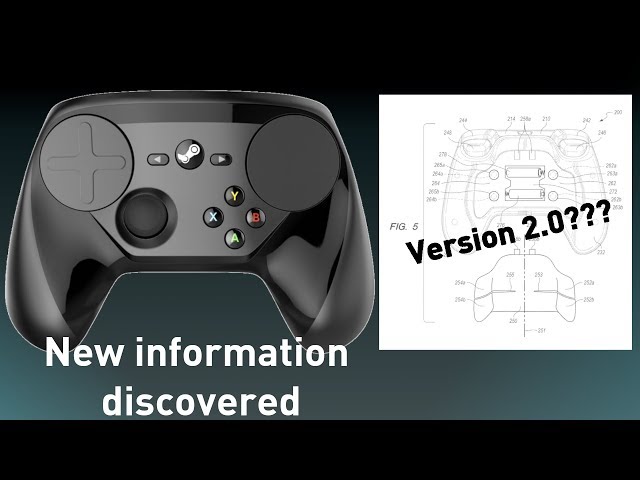 We know that Valve is already producing this kind of technology, meaning that the Steam Controller version two, while far from confirmed, is looking just a little more likely.
Related: Steam Remote Play is now "experimentally available"
Now that Critical Input has found these files, which could potentially suggest that Valve might have progressed things a little further beyond the patent, perhaps it's time to start feeling a little hopeful that the developer has a new controller – and a pretty exciting-sounding one at that – in the works. We'll just have to wait and see.