The last new fighter DLC added to Street Fighter V was the "Evil Ryu" character Kage back in December, so fans were greatly anticipating the Evo 2019 fighting event this weekend – the game was definitely going to be there, even if it wasn't in the top slot anymore – in the hope of seeing some big reveals.
The good news is that Capcom delivered an impressive three new fighters to add to Street Fighter V's already-sizeable roster, and they're not minor characters either – classic Street Fighter II's sumo wrestler E. Honda, Final Fight 3's policewoman Lucia, and Final Fight's maybe-trans fighter Poison.
Of course the Street Fighter V community is thrilled to see these iconic fighters making their debuts in the game, but the problem was with how these characters were revealed – as the exciting announcement trailer was unfortunately leaked on Steam earlier this week. It was uncertain at the time how this happened, but now Valve has taken responsibility for the leak – and has apologised for the incident.
Valve employee "TomG" posted the apology "to Street Fighter V fans" on the game's Steam forum. He explains that "there was a mix-up in the publishing process at Valve that caused a trailer to go live on Steam ahead of schedule… It's a regrettable and unintentional situation, and we have already implemented measures to prevent this error from happening again." He then added, "we are fans of Street Fighter ourselves and we're sorry for the error."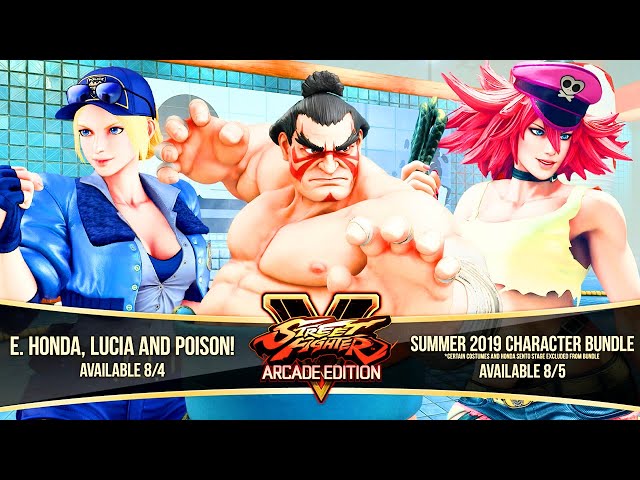 The characters of E. Honda, Lucia, and Poison will be available to buy tomorrow, August 4, at the end of Evo 2019. They will be available separately for $5.99 or 100,000 Fight Money. Alternatively, on August 5 Capcom will release a bundle with all three characters for $14.99 – along with their alternate colours and 'battle costumes'.
Capcom seem to be treating Street Fighter V: Arcade Edition as more of a live-service than previous games, and it previously dashed talk of Street Fighter VI being announced any time soon. Whether that will still be the case come Evo 2020, we'll just have to wait and see.